Plus "Ai Yori Aoshi" and "Ai Yori Aoshi: Enishi"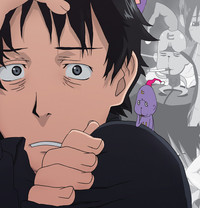 The Crunchyroll-Funimation partnership continues to deliver anime classics into the CR catalog, and today's titles are Welcome to the N-H-K, Is this a Zombie? of the Dead, along with Ai Yori Aoshi and Ai Yori Aoshi: Enishi! Read on for full details!
Launches: Today, 9/28, at 4pm PST
Territories: United States, Canada, United Kingdom, Ireland, South Africa
Sato is a tangle of anxieties and conspiracy theories, believing that the nefarious N-H-K wants to turn society's misfits into a mob of hopeless recluses. Mysterious Misaki might be able to help Sato overcome his phobias—if she can pull him out of his existential foxhole and get him to face the world.
---
Launches: Today, 9/28, at 5pm PST
Territories: United States, Canada, South Africa
The world's most eligible zombie is back for another round of cross dressing, decomposing, undead adventures in the only show where corpses get all the chicks! Season Two gets off to a shocking start as Ayumu breaks Haruna's magic chainsaw and accidentally exposes his fondness for pretty pink dresses to the entire school! Next there's an incident with a dreadful dance that turns out to be a curse – and an embarrassing trip to a maid café where all the zombie's roommates work! But the shenanigans take a backseat to bigger problems when Ayumu's mysterious drinking buddy turns out to be the most powerful magical girl of them all! To save his friends and defeat this adorable new menace, zombie boy must do the unthinkable: throw a mixer for his own murderer! With a little help from his loyal harem of vampires, magical girls, and the world's cutest necromancer, Ayumu just might survive to rot another day!
---
Ai Yori Aoshi + Ai Yori Aoshi: Enishi
Launches: Today, 9/28, at 6pm PST
Territories: United States, Canada
Kaoru is a college boy living with his fiancé Aoi, but family complications are forcing them to keep their engagement secret. Countless steamy situations arise as a variety of babes start moving in to their mansion. They can't get enough of Kaoru—they're even invading his bed! Two is company and eight is a party in this romping romance brought to you by the director of Saber Marionette J.
---
Patrick Macias is editor in chief of Crunchyroll News & Otaku USA magazine. He is currently serializing his latest writing project, PARANOIA GIRLS, on Wattpad.