Liden Films (The Heroic Legend of Arslan) works on anime production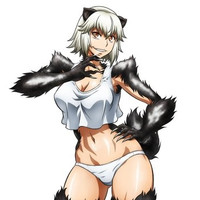 Following the announcement in March, an official Twitter and a teaser site for the upcoming TV anime adaptation project based on Shinya Murata (story) and Kazuasa Sumida (art)'s battle action manga Killing Bites opened today, announcing its January 2018 premiere in Japan and main staff members. The site also reveals a first visual of the animal-human hybrid main heroine Hitomi Uzaki in her beast fighter mode.
【最新情報その1】
アニメ『キリングバイツ』が、2018年1月よりTVアニメ放送されることが決定いたしました!

さらに、獣闘士(ブルート)『蜜獾(ラーテル)』のティザービジュアルを公開! #KB_anime pic.twitter.com/ubmeEAurWr

— TVアニメ『キリングバイツ』公式 (@KB_anime) 2017年9月29日
Yasuhito Nishikata (The Heroic Legend of Arslan episode director) makes his TV anime series directorial
debut, alongside series composition writer Aoi Akashiro (Classroom of the Elite) and character designer
Kazuo Watanabe (The Heroic Legend of Arslan). Yasuharu Takanashi (Naruto, Fairy Tail) provides soundtrack
music, Liden Films works on anime production.
The story introduction on the site:
An ordinary college student Yuuya Nomoto encounters a mysterious girl Hitomi. At a deserted dumping
ground, he witnesses her transforming into a beast form and battling out against a lion monster. Their
identity are "Bruto," who have both a human brain and animal fangs, and Hitomi is "Ratel (Honey badger)"
with the strongest fighting instinct. "Bruto" have been given patronage by the four biggest financial groups:
Mikado, Yatsubishi, Sumitomo, and Ishida, since ancient times, and have fought against each other as their
representatives to struggle for supremacy. By meeting with Hitomi, Nomoto becomes involved in the
cutthroat battles by them, called "Killing Bites."
2018年1月の放送に向け、本公式Twitterや公式サイトにて最新情報をお届けしていきます。
今後の情報にもご期待下さい! #KB_animehttps://t.co/zNhkGWg2xY

— TVアニメ『キリングバイツ』公式 (@KB_anime) 2017年9月29日
---
The manga has been serialized in Monthly Hero's magazine since its January 2014 issue and the latest
8th tankobon volume will be released on October 5.
Manga 1st and 2nd volume covers
3rd and 4th
5th and 6th
7th and 8th
Source: TV anime "Killing Bites" offcial website, Twitter
© Shinya Murata, Kazuasa Sumida, HERO'S/ Killing bites Production Committee