"Digimon Adventure tri. Coexistence" leads the mini theater ranking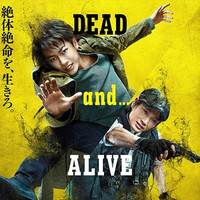 The much-anticipated live-action film adaptation of Gamon Sakurai's Ajin: Demi-Human sci-fi action manga opened in 316 theaters (341 screens) across Japan on September 30 and dominated the weekend box office with a very good 272 million yen from the 210,000 ticket sales. The Katsuhiro Motohira (Bayside Shakedown, Psycho-Pass)-directed and Takeru Sato (Kamen Rider Den-O, Rurouni Kenshin)-starring film is expected to make at least 1.5 billion yen from its domestic run, and considering the original manga's international popularity, more from the overseas.
There were three new anime films received a limited release last weekend: Sound! Euphonium: Todoketai Melody (40 theaters), Digimon Adventure tri. Chapter 5: Coexistence (16 theaters), and Haikyu!! Concept no Tatakai (20 theaters). While none of them ranked above the top 10 of the overall box office, according to Cinema Ranking Tsushin's Mini Theater Ranking, Digimon took the top spot, and Haikyu!! followed in 2nd. In addition, Haikyu!! ranked also 2nd in Pia's first day
satisfaction ranking with 92.7 rating, only behind Hidden Figures (63 theaters) with 93.1.
---
Weekend box office in Japan (September 30-October 1, 2017)
- ticket sales basis
1 (new). "Ajin"
2 (new). "A Dog's Purpose"
3 (1). "Namiya Zakkaten no Kiseki"
4 (3). "Dunkirk"
5 (4). "The Third Murder"
6 (2). "Asahinagu"
7 (new). "Hidden Figures"
8 (5). "Alien: Covenant"
9 (6). "Sekigahara"
10 (7). "Despicable Me 3"
---
"Ajin" trailer
"Sound! Euphonium: Todoketai Melody" web trailer
"Haikyu!! Sainou to Sense/Concept no Tatakai" trailer
Source: Eiga.com, Cinema Ranking Tsushin
©2017 Film "Ajin" Production Committee
©Gamon Sakurai/Kodansha
©Ayano Takeda, Takarajimasha/"Hibikie!" Production Committee
©2017 Haruichi Furudate/Shueisha, "Haikyu!!" Production Committee, MBS