The official YouTube channel has attracted 100,000 registered subscribers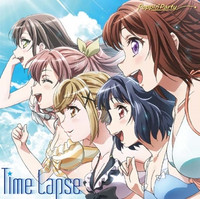 In commemoration for reaching 100,000 registered susbscribers in two and half years, the offcial YouTube channel of the BanG Dream! franchise today posted a four-minute live performance clip of "Time Lapse," its five-member voice actress band Poppin'Party's latest 7th single song from "BanG Dream! 4th☆LIVE Miracle PARTY 2017!" held at Nippon Budokan on August 21. The 11,000 tickets for their fourth concert were immediately sold out before open to the general public (general sale was cancelled).
The CD single "Time Lapse," also including "Hachigatsu no if" (an insert song for the OVA "Asonjyatta!"), was released from Bushiroad Music on September 20, and sold 10,603 units in its first week, ranking 6th in the Oricon weekly single chart, which was the highest in their two-year career as a rock band.
"Time Lapse" live performance at Nippon Budokan
Photos at Budokan
Poppin'Party members:
Aimi: Kasumi Toyama/guitar, vocal
Ayasa Ito: Arisa Ichigaya/keyboard
Rimi Nishimoto: Rimi Ushigome/bass
Sae Ohtsuka: Tae Hanazono/lead guitar
Ayaka Ohashi: Saaya Yamabuki/drums
CM for "Hachigatsu no if"
"Time Lapse" CD jakcet illustration
「バンドリちゃんねる☆」登録者数10万人突破ありがとうリツイートキャンペーン実施!各バンドボーカルのキャスト直筆サイン入りアクリルスタンドキーホルダー5点セットを抽選でプレゼント!詳細は画像をご確認ください♪
バンドリちゃんねる☆⇒https://t.co/FL4WxFTiOL pic.twitter.com/T2CnqFJCRw

— BanG Dream!(バンドリ!)公式 (@bang_dream_info) 2017年10月2日
Source: Bushiroad press release
© bushiroad