Users can enjoy conversations relating to the Mobile Suit Gundam franchise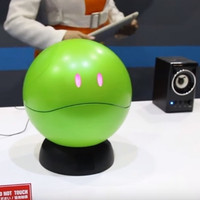 Japanese toy maker Bandai plans to release its new communication robot "Gundam Concierge Haro" based on the character Haro from Sunrise's popular anime franchise Mobile Suit Gundam sometime in 2018, and is now displaying its sample for demonstrations at CEATEC JAPAN 2017 held at Makuhari Messe in Chiba Prefecture from October 3 to 6. It is the first product from Bandai Namco group's IT entertainment service brand "BN Bot Project."
With an artificial intelligence developed by Japan IBM, the 19cm-tall spherical robot can have conversations relating to the Gundam franchise with users. It can also recognize users' voice, analyze the meaning and intention of their speeches, then find the best answer for the topic from its huge database. The price for the robot has not yet been decided.
The Japan Times and Impress Watch have posted video reports from CEATEC JAPAN 2017.
via: The Japan Times official YouTube channel, Impress Watch, Bandai press release
© Sotsu/Sunrise