Rainy Cocoa in Hawaii is also set to join the library of catalog titles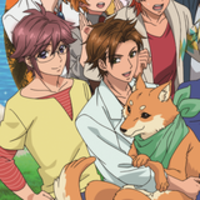 Crunchyroll has announced the addition of Ame-iro Cocoa Series: Ame-con!! to its fall anime line-up. The first episode of the bishonen comedy debuts on October 5th at 8:30am PDT with later episodes coming Wednesdays at 8:30am.
Regions include - U.S.A, Canada, United Kingdom, Ireland, Australia, New Zealand, South Africa, Norway, Sweden, Finland, Iceland, Denmark, and Central and South America including Caribbean.

Synopsis:


With the help of the friends he met in Hawaii, Nozomu successfully opened his cafe, Rainy Color Waikiki Branch. They had a rush of customers during their opening, but since then, it's been a real struggle.

To break through the problem and help the struggling Nozomu, the shop's owner Amami brings a Shiba Inu to be their shop dog. The Shiba Inu, Nana, has the ability to identify delicious coffee by smell!

Nozomu meets new characters and faces hard struggles. And eventually, he makes an incredible move that nobody would ever expect!

Set against famous sightseeing spots in Hawaii, a story of hard work unfolds in Waikiki!
Rainy Cocoa in Hawaii is also set to join the library of catalog titles.



Summary:

Amami, the owner of the Rainy Color café, assigned Nozomu Tokura as the manager of the new shop in Hawaii.
Even though life of Nozomu is increasingly hectic toward the opening, he and his new fellows in Hawaii keep positive and make their efforts trying to get everything down.
Can they make it by the date of opening?

------
Follow on Twitter at @aicnanime