TV anime premiere scheduled for January 6th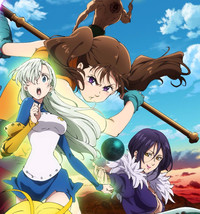 Nakaba Suzuki's fantasy action manga The Seven Deadly Sins, previously adapted into a 2014 TV anime with a 2016 mini-series follow-up, is now set to return to TV anime in Revival of The Commandments. A January 6th premiere date was announced this weekend along with the news that rock band team-up FLOWxGRANRODEO, who previously collaborated on the earlier anime's ending, will be performing the new opening.
The news was accompanied by a new visual and preview.
「七つの大罪 戒めの復活」2018年1月6日(土)朝6時30分~MBS/TBS系全国ネット"アニメサタデー630"にて放送!第1弾PVを初公開!!#七つの大罪 pic.twitter.com/TYqOKHYA0S

— TVアニメ「七つの大罪」 (@7_taizai) October 7, 2017
「七つの大罪 戒めの復活」2018年1月6日(土)朝6時30分~MBS/TBS系全国ネット"アニメサタデー630"にて放送!第1弾PVを初公開!!#七つの大罪 pic.twitter.com/TYqOKHYA0S

— TVアニメ「七つの大罪」 (@7_taizai) October 7, 2017
「七つの大罪 戒めの復活」OPテーマは「FLOW×GRANRODEO」に決定!
第1期のEDも担当した注目のタッグの新曲をお楽しみに!詳しくはこちら!https://t.co/lqNccMf15i #七つの大罪 pic.twitter.com/mftHb6sr1x

— TVアニメ「七つの大罪」 (@7_taizai) October 7, 2017
Revival of The Commandments Staff
Director: Takeshi Furuta (ēlDLIVE) Furuta (ēlDLIVE)
Assistant Director: Tomoya Tanaka
Series Composition: Takao Yoshioka (Elfen Lied and High School DxD)
Character Design: Kento Toya and Keigo Sasaki
Music: Hiroyuki Sawano, and Takafumi Wada
Production: A-1 Pictures
Cast:
Meliodas: Yuuki Kaji
Elizabeth: Sora Amamiya
Hawk: Misaki Kuno
Diane: Aoi Yuuki
Ban: Tatsuhisa Suzuki
King: Jun Fukuyama
Gowther: Yuuhei Takagi
Merlin: Maaya Sakamoto
Mamoru Miyano
Gilthunder: Ryohei Kimura
Griamor: Takahiro Sakurai
Additional Cast
Escanor: Tomokazu Sugita
Matrona: Rina Satou
Zeldris: Yuuki Kaji
Estarossa: Hiroki Touchi
Galand: Hiroshi Iwasaki
Melascula: M.A.O
Drole: Daisuke Ono
Gloxinia: Yuusuke Kobayashi
Monspeet: Kenjiro Tsuda
Derieri: Ayahi Takagaki
Grayroad: Koji Yusa
Fraudrin: Katsuyuki Konishi
earlier visual

------
Follow on Twitter at @aicnanime