25-year-old Ukon Onoe serves as his replacement from today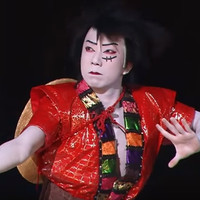 41-year-old kabuki star Ennosuke Ichikawa IV, who played Monkey D. Luffy, Boa Hancock and Shanks in the ongoing "Super Kabuki II One Piece", broke his left arm in the end of the performance at Shinbashi Enbujo in Tokyo yesterday, October 9, and is now forced to leave the show for undecided period of time.
Ichikawa has played the three characters in the kabuki adaptation of Eiichiro Oda's internationally popular manga One Piece since 2015. Its highly-anticipated rerun began at the venue just four days ago, October 6, and is scheduled to run till November 25.
According to the report, when Ichikawa left the stage after the curtain call, the left sleeve of his costume was accidentally entangled by a lifting device. He was taken to hospital soon after the show and was diagnosed with a broken left arm. From today's show, 25-year-old Ukon Onoe, who was
originally cast as Sadi and Marco, serves as his replacement. A specific schedule for Ichikawa's return
has not been made yet.
CM for the rerun
Ennosuke Ichikawa as Luffy
Source: "Super Kabuki II One Piece" official website, Asahi
© Eiichiro Oda/Shueisha, Super Kabuki II "One Piece" Partners