Highly-anticipated TV anime 2nd season is now available on Crunchyroll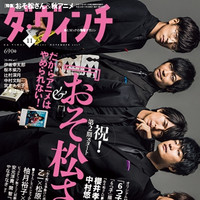 As reported, the latest November 2017 issue of Kadokawa's monthly general literature magazine DA VINCI, released on October 6, features the six main voice actors from the Osomatsu-san/Mr.Osomatsu TV anime series on its cover. The publisher confirms today that the issue is almost sold out only in five days of release and decides to reprint it immediately. According to Japan Magazine Publishers Association (JMPA), the magazine's confirmed circulation in 2016 was 120,000 copies.
The reprinted copies are scheduled to be available at stores by the end of this month. This is the first time for the magazine to reprint its issue in two years and three months since its July 2015 issue featuring Naoki Matayoshi, 37-year-old Japanese comedian who won the 153rd Akutagawa Prize.
The six all wearing black suit and tie are: Takahiro Sakurai (43/Osomatsu), Yuichi Nakamura (37/Karamatsu),
Hiroshi Kamiya (42/Choromatsu), Jun Fukuyama (38/Ichimatsu), Daisuke Ono (39/Jyushimatsu), and Miyu
Irino (29/Todomatsu). It is the first time for the magazine to feature the six VAs all together on its cover.
In commemoration of the premiere of the TV anime second season, the issue offers a 42-page feature for
the series, including interviews with the six.
"DA VINCI" November 2017 issue cover
櫻井孝宏、中村悠一、神谷浩史、福山潤、小野大輔、入野自由さんら「おそ松さん」声優6名に表紙を飾って頂いたダ・ヴィンチ11月号、異例の緊急重版が決定! #おそ松さん
ありがとうございます!https://t.co/2t4W2Q0oaC pic.twitter.com/R4jNUTMq8R

— ダ・ヴィンチ編集部 (@davinci_editor) 2017年10月12日
---
The highly anticipated TV anime second season premiered in Japan on October 2, and has been
also available to Crunchyroll members worldwide except Aisia.
2nd season key visual
Source: Kadokawa press release
©Fujio Akatsuka/Osomatsu-san Production Committee