Sally Amaki is both a traditional idol and a homesick American... depending on where you look.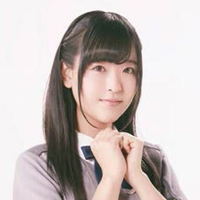 Digital idol group 22/7 is, of course, backed up by a team of real voice actresses. But one in particular -- Sakura Fujima (far left), voiced by LA native Sally Amaki -- has been getting extra attention for the differences in her personaity between her Japanese and English interviews.
Amaki began appearing on the streaming app SHOWROOM, used by many Japanese idols to chat with their fans. After she got the feeling that many fans might be avoiding participating because they couldn't speak Japanese, she started speaking English. Since then she's gotten activity from both sides of the ocean, answering her fans in both languages.
She's sung to her fans in both English and Japanese, including English versions of anime songs -- part of which has added to her viral appeal. Fans have noticed, though, that between her Japanese and English responses, there's a fair bit of difference.
For her Japanese fans, she gives traditional idol answers, talking about her love of the job and the project. Meanwhile, for American fans, she talks frankly about wanting to be a voice actress, her nostalgia for Taco Tuesday, her love of memes, and her thoughts on the LGBT community in Japan.
While it may register as odd to some, it's actually an amazing skill. Communication between celebrities and fans is extremely different culturally speaking between the United States and Japan, and it looks like Amaki has mastered both. Her sweetness and enthusiasm is winning over Japan, while her relatability and humor are building her a US fan base.
Check out one of her SHOWROOM live chats to watch Amaki swapping effortlessly between questions for her international fans:
Sally as Sakura, along with the rest of 22/7, will appear later this month at a mini-live in Tokyo.
Source: Sony Music Entertainment