TV anime's next 37th episode will be a prequel to the film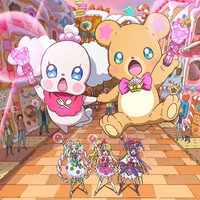 In addition to the fairy Mofurun teased in the full trailer posted in July, the three main PreCure girls from the previous 13th TV series Maho Girls PreCure: Cure Miracle, Cure Magical, and Cure Felice are confirmed to appear in "Eiga Kirakira PreCure a la Mode: Paritto! Omoide no Mille-feuille" (Kirakira PreCure a la Mode The Movie: Paris and The Memorable Mille-feuille), the upcoming feature film based on the ongoing 14th TV series Kirakira PreCure a la Mode.
While girls from the past PreCure TV series are featured together in the "All Stars" films released in every spring, this is the first time for the 14-year-old franchise that the previous TV series' characters make guest appearance in the ongoing series' feature film edition released in fall.
Also, the next 37th episode of Kirakira PreCure to be aired on October 22 is confirmed to be a prequel story to the film focusing on the past of Ciel Kiraboshi in her training days in Paris. Her
master Jean-Pierre Zylberstein, voiced by 32-year-old kabuki actor Onoe Matsuya II, will join the
episode prior to the film to reveal Ciel's past to Ichika and other members and tries to bring back
Ciel to Paris with him. Then the story will directly continue to the film.
The film is set to be released in Japan on October 28, 2017, accompanied with a full 3DCG short film
"Petit Dream Stars! Let's la Cooking? Showtime!" featuring the fairy characters from the recent series.
映画「プリキュアアラモード」に「魔法つかいプリキュア!」のキャラクターが登場 https://t.co/EMTgu56Hlb pic.twitter.com/jNhTyNCZrH

— 映画ナタリー (@eiga_natalie) 2017年10月14日
TV anime 37th episode trailer
Film full trailer
"Eiga Kirakira PreCure a la Mode: Paritto! Omoide no Mille-feuille" Main Staff:
Director: Yutaka Tsuchida (The Kindaichi Case Files R season 1 series director)
Screenplay: Isao Murayama (Maho Girls PreCure! series composition)
Character designer/Chief animation director: Kastui Tamegai (Maho Girls PreCure!)
Animation Director: Kazuhiro Ohta (HappinessCharge PreCure! the Movie)
"Petit Dream Stars! Let's la Cooking? Showtime!" Main Staff:
Director: Naoki Miyahara (Pop In Q)
CG Director: Mari Kobayashi (PreCure series CD director)
©2017 "Movie Kirakira PreCure a la Mode" Production Committee
©ABC-A, Toei Animation