While this is a Bandai premium offering, these Styling toys are candy-toy scale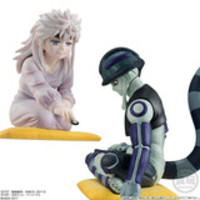 You might need to blow your nose or wipe away some tears for this one. Bandai Premium has started sales on a Hunter x Hunter - Styling Meruem and Komugi figure set, complete with a replica Gungi board and their final game. "Styling" is Bandai's "candy toys" lines, meaning smaller, rougher figures packaged with gum. And, while this is a Bandai premium offering, it is to that scale (8.5 cm tall, 15.cm wide for the set) and even packed with gum.
They sell for 4,968 yen with shipping scheduled for February.
『HUNTER×HUNTER キメラアント編』より「メルエム」と「コムギ」の対局をフィギュアで再現☆儚い最後の一瞬を切り取り立体化しました!「帥」「忍」のコマも付属♪ https://t.co/AK578Z6vvn pic.twitter.com/YDgIdGEHRd

— プレミアムバンダイ (@p_bandai) October 17, 2017

------
Follow on Twitter at @aicnanime