Kento Yamazaki-starring film hits Japanese theaters November 3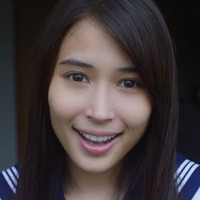 Cinema Today's official YouTube channel has posted a four-minute full music video for "Iolite," the theme song for the upcoming live-action film adaptation of Honobu Yonezawa's mystery novel Hyouka, written/performed by two-member unit Itowokashi. But instead of the artists, 22-year-old actress Alice Hirose, who is cast as the main heroine Eru Chitanda, performs in the clip by lip-syncing.
The Hyouka live-action film is directed by 41-year-old Mari Asato (Real Onigokko 3-5, Zero The Movie), also starring 23-year-old Kento Yamazaki as the male protagonist Houtarou Oreki. The Kadokawa Daiei Studio-produced film is set for a release in Japan on November 3, 2017.
"Iolite" full MV
Alice Hirose with the two members of Itowokashi (via: Hirose's official Twitter)
映画「氷菓」の主題歌、
イトヲカシさんの「アイオライト」のMVに出演させて頂きました!
楽しかった〜
久々に学生気分を味わいました pic.twitter.com/FjZvAJjo4X

— 広瀬アリス (@Alice1211_Mg) 2017年10月17日
---
Full trailer featuring the theme song
Main poster visual
\さらに、ポスタービジュアルも解禁/

青春の眩しさと、その裏に隠された過去からのメッセージを予感させる『#映画氷菓』の魅力がたっぷり詰まっています

ほろ苦くも眩しい、"謎解き青春学園エンタテインメント"に乞うご期待https://t.co/8ttAeAd9fz pic.twitter.com/5fMdJrNyM0

— 映画『氷菓』公式 (@hyouka_movie) 2017年9月7日
---
Hyouka is Yonezawa's debut novel published in October 2001, and the first volume of his Koten-bu/Classic
Literature Club series that has printed over 2.05 million copies in total so far. Under the title "Hyouka," the
series' episodes were adapted into a 22-episode TV anime by Kyoto Animation in 2012.
TV anime "Hyouka" key visuals
Source: Cinema Today
©2017 "Hyouka Production Committee"
©Honobu Yonezawa・KADOKAWA SHOTEN CO., LTD./The graduates of the classic club of the Kamiyama high school