October 17th line-up includes Academy Award winner "Spirited Away", "Howl's Moving Castle", and more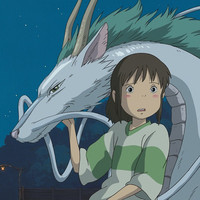 On October 17, 2017, GKIDS and Shout! Factory began their re-release of classic Studio Ghibli films on Bluray and DVD with a batch of six movies, including My Neighbor Totoro, Ponyo, Princess Mononoke, Howl's Moving Castle, Kiki's Delivery Service, and the Academy Award-winning Spirited Away. The films were previously distributed in North America by Disney.
GKIDS describes each film as follows:
My Neighbor Totoro - One of the most endearing and internationally renowned films of all time, a film that Roger Ebert called "one of the five best movies" ever made for children, My Neighbor Totoro is a deceptively simple tale of two girls, Satsuki and Mei, who move with their father to a new house in the countryside. They soon discover that the surrounding forests are home to a family of Totoros, gentle but powerful creatures who live in a huge and ancient camphor tree and are seen only by children. Based on Miyazaki's own childhood imaginings, Totoros look like oversized pandas with bunny ears and they take the girls on spinning-top rides through the tree tops and introduce them to a furry, multi-pawed Catbus — a nod to Lewis Carroll's Cheshire Cat.
Ponyo - Perfect for audiences of all ages, Ponyo centers on the friendship between five-year-old Sosuke and a magical goldfish named Ponyo, the young daughter of a sorcerer father and a sea-goddess mother. After a chance encounter, Ponyo yearns to become a human so she can be with Sosuke. As to be expected with Miyazaki, the film is awash in pure unbridled imagination and visual wonder — but it is the tender love, humor, and devotion exhibited by Ponyo and Sosuke that form the emotional heart of the film.
Princess Mononoke - While defending his village from a demonic boar-god, the young warrior Ashitaka becomes afflicted with a curse that grants him super-human power in battle but will eventually take his life. Traveling west to find a cure or meet his destiny, he journeys deep into sacred depths of the Great Forest where he meets San (Princess Mononoke), a girl raised by wolf-gods who is waging battle against the human outpost of Iron Town, on the edge of the forest. The girl Mononoke is a force of nature – with blood smeared lips, riding bareback on a great white wolf, doing battle with both gods and humans, she is as iconic a figure as any from film, literature, or opera.
Howl's Moving Castle - Sophie, an average teenage girl working in a hat shop, finds her life thrown into turmoil when she is literally swept off her feet by a handsome but mysterious wizard named Howl. But after this chance meeting, the young girl is turned into a 90-year old woman by the vain and conniving Witch of the Waste. Embarking on an incredible adventure to lift the curse, she finds refuge in Howl's magical moving castle. As the true power of Howl's wizardry is revealed, and his relationship with Sophie deepens, our young grey heroine finds herself fighting to protect them both from a dangerous war of sorcery that threatens their world. Howl's Moving Castle was the second Studio Ghibli film to be nominated for Best Animated Feature at the Academy Awards.
Kiki's Delivery Service - From the legendary Hayao Miyazaki comes the beloved story of a resourceful young witch who uses her broom to create a delivery service, only to lose her gift of flight in a moment of self-doubt. It is tradition for all young witches to leave their families on the night of a full moon and set out into the wide world to learn their craft. When that night comes for Kiki, she embarks on her life journey with her chatty black cat, Jiji, landing the next morning in a sea-side village, where a bakery owner hires her to make deliveries. Rarely has the animator's art been so brilliantly rendered as in this delightfully imaginative film – a beautiful and timeless story of a young girl finding her way in the world.
Spirited Away - Wandering through an abandoned carnival site, ten-year-old Chichiro is separated from her parents and stumbles into a dream-like spirit world where she is put to work in a bathhouse for the gods, a place where all kinds of nonhuman beings come to refresh, relax and recharge. Here she encounters a vast menagerie of impossibly inventive characters — shape-shifting phantoms and spirits, some friendly, some less so — and must find the inner strength to outsmart her captors and return to her family. Combining Japanese mythology with Through the Looking Glass-type whimsy, Spirited Away cemented Miyazaki's reputation as an icon of inspired animation and wondrous, lyrical storytelling.
GKIDS and Shout! Factory will continue their next batch of Studio Ghibli re-releases with Castle in the Sky and Nausicaä of the Valley of the Wind, which will both be published on October 31, 2017. The Secret World of Arrietty and Porco Rosso will be published on November 21, 2017.
Source: Official press release
Paul Chapman is the host of The Greatest Movie EVER! Podcast and GME! Anime Fun Time.