All tiers for crowd-funding inspired "Project H" met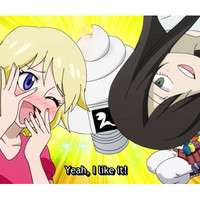 If you haven't been paying attention, take comfort in the knowledge that as of the end of September, new episodes of Heybot are no long afflicting this suffering world. On the other hand, the 50-episode run of the absolutely absurd anime tied to Bandai's toy/multi-media project is going to be collected into a DVD set, which was offered in a July 28-October 15th crowd-funding inspired "Project H" through Movic. The final count was announced, and the Screwed up project more than doubled the top-tier requirement.
The final pre-order count was 6,432.
Tiers included:
300 - video bonuses (clean opening/ending, digital production art collection0
400 - special box art (progress on that in the Tweets below), audio commentary on 4 episodes
500 - papercraft with moving gimmick
1000 - subtitled, soundtrack CD
2000 - book collecting staff thank-you messages
3000 - All-region Blu-ray collection with subtitles in four languages
Crunchyroll describes the series:
The story takes place on Screw Island, a screw-shaped island nation where people make audiences laugh through the practice of "VocabBattles," heated gag contests in which "VocabBots" place "VocabScrews" on their heads and compete to come up with the funniest joke. Everything in this world is decided through VocabBattles! The unlikely duo of Heybot, the bungling VocabBot protagonist, and his partner, the easygoing prince Nejiru, are the stars in this ridiculous gag story.
#ヘボット!DVD-BOX~プロジェクトH~
お待たせいたしました!10/15(日)に初回お申込を終了させて頂きました、ヘボット!DVD-BOXの最終のお申込数をご報告させていただきます!https://t.co/1SLEjcVsHI pic.twitter.com/OSWd24S75q

— ヘボット!【公式】 (@HEYBOT_official) October 18, 2017
#ヘボット!DVD-BOX~プロジェクトH~
ヘボット!をいつも応援してくださっている皆様…!
誰も…我々さえも…!予想だにしていなかった結果となりました…!!
それでは、これよりヘボヘボ先生から皆様へ、ご報告させていただきたいと思います!! pic.twitter.com/D41T63Ib61

— ヘボット!【公式】 (@HEYBOT_official) October 18, 2017
#ヘボット!DVD-BOX~プロジェクトH~
ヘボらヘボら…
15日に〆切った初回お申込数をご報告ヘボら!
最終はなんと…!

┏━━━┓
6,432BOX
┗━━━┛

こんなにたくさん…!
アリガッ・トウ!
沢山の皆にヘボット!をお届けできて感無量じゃ!!
アリガッ・トウ!! pic.twitter.com/OG3YdebmBc

— ヘボット!【公式】 (@HEYBOT_official) October 18, 2017
皆様にしっかり満足いただけるBOXとなれるよう、現在鋭意制作中!!先日キャラクターデザインの佐野さん・高瀬さんと収納BOXイラストの話し合いをして参りました。ラフですでに素敵すぎて…素晴らしいBOXになること間違いなしです!!どうぞお楽しみに!(一部だけチラリ) pic.twitter.com/o2Ife5dr1l

— ヘボット!【公式】 (@HEYBOT_official) October 18, 2017

------
Follow on Twitter at @aicnanime