Third TV anime adaptation has been available on Crunchyroll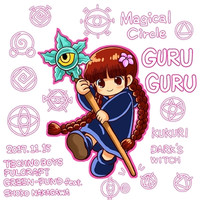 Following the previous one introduced in July, 32-year-old actress/singer/otaku idol Shoko Nakagawa, aka Shokotan, has posted a new tribute art of Kukuri, the main heroine of Hiroyuki Eto's Mahojin Guru Guru/MAGICAL CIRCLE GURU-GURU gag manga. As reported, she is confirmed to sing the ongoing TV anime's new ED song for its second cour, "Magical Circle."
As with the first cour's "Round&Round&Round" sung by Bonjour Suzuki, Shokotan collaborates with three-member Japanese techno electronica unit TECHNOBOYS PULCRAFT GREEN-FUND. Under the artist name "TECHNOBOYS PULCRAFT GREEN-FUND feat. Nakagawa Shoko." The CD single is set to be released in Japan on November 15.
ククリちゃん描きました!
魔法陣グルグル エンディングテーマ
Magical Circle

11/15 発売!
グルグルとククリちゃん!
TVアニメ『魔法陣グルグル』2クール目ED主題歌「Magical Circle」 https://t.co/rv6lDYdz1K pic.twitter.com/VpC2iiJAbq

— 中川翔子 (@shoko55mmts) 2017年10月18日
Shokotan with the original manga author Hiroyuki Eto
hontoの連載万歳!
魔法陣グルグルの作者
衛藤ヒロユキ先生にお会いできました!!夢みたい!直筆、ニケとククリのイラストをいただいてしまいましたしかも色まで!宝物のグルグルランド2を持ってきました。小さい頃よく模写してたドラクエ4コマも大好きだった pic.twitter.com/oAHRalhhRg

— 中川翔子 (@shoko55mmts) 2017年10月19日
First art posted in July
久しぶりに!あの頃以来に描いたかも!グルグル!

原作扉絵を模写して絵の具で塗って壁にはってました、10歳くらいのころ?
猫とドラクエ好きな子供に夢のようなアニメだった
なつかしい、、 pic.twitter.com/ADFeIKKnfk

— 中川翔子 (@shoko55mmts) 2017年7月11日
---
The third TV anime MAGICAL CIRCLE GURU-GURU is now available to Crunchyroll members worldwide except Asia.
"MAGICAL CIRCLE GURU-GURU" key visual
Source: Shoko Nakagawa official Twitter
© 2.5D PRODUCTION
© Hiroyuki Eto/SQUARE ENIX, MAGICAL CIRCLE GURU-GURU Project