The clip also introduces the theme song "WHITE OUT" by XAI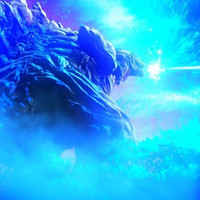 The official website for Godzilla: Kaiju Wakusei/Monster Planet, the first part of Polygon Pictures' upcoming trilogy anime film project inspired by Toho's long-running Godzilla franchise, finally released a 90-second full trailer for the November 17 release in Japan.
The clip includes a scene featuring the franchise's biggest Godzilla unleashing its signature weapon "atomic breath" (nuclear blast) on the future earth, and also reveals the film's theme song "WHITE OUT" performed by 19-year-old rookie singer XAI for the first time. She was the winner of the "Artist" category in the 8th Toho Cinderella Audition held in November 2016, and her debut CD single "WHITE OUT" is set to be released on November 15.
公開目前!本予告解禁!人類VSゴジラの壮絶な戦いが始まる!10/27(金)から順次劇場で上映される『GODZILLA 怪獣惑星』の本予告をWEBで先行解禁!XAIが歌う主題歌「WHITE OUT」の歌声も解禁!https://t.co/xVuk30WzCW #アニゴジ pic.twitter.com/Xe09F8in4P

— 映画『GODZILLA 怪獣惑星 』 (@GODZILLA_ANIME) 2017年10月24日
---
The film is set 20,000 years future, when the planet earth has been dominated by Godzilla and unknown
monsters. Co-director Koubun Shizuno (Knights of Sidonia) says, "Because we had a permission from Toho
that our design didn't need to be bound by the previous Godzillas from the beginning, I think we have
created a cool Godzilla based on free ideas, which only anime can express."
Godzilla: Kaiju Wakusei/Monster Planet" will be released in Japanese theaters on November 17, 2017. Netflix
has already announced the acquisition of world-wide distribution rights to the film.
Main poster visual
本ポスタービジュアル解禁!シルエットでしか登場していなかったゴジラの圧倒的で巨大な姿を背景に、ゴジラに立ち向かうハルオらメインキャラクターたちの姿が。<究極の死闘>の幕開けを予感させるビジュアルが完成しました。#アニゴジ https://t.co/0jU1Qz3Arq pic.twitter.com/tl3qXvowC1

— 映画『GODZILLA 怪獣惑星 』 (@GODZILLA_ANIME) 2017年8月16日
Source: "Godzilla: Monster Planet" official webite, Twitter
©2017 TOHO CO.,LTD.