Osakabehime joins the brawl, and Elizabeth Báthory is two robots because of course she is.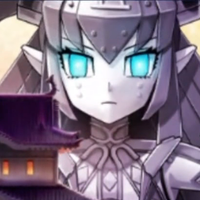 It wouldn't be Halloween in Fate/Grand Order without Elizabeth Báthory causing a scene. And while America is dealing with her first mad party as we speak, Japan is already on to its third Halloween event. This time, the half-dragon idol has gotten herself an upgrade -- in the form of Mecha Eli-chan and Mecha Eli-chan II.
The two new four-star Berserker-class Servants fight you with eye beams, missiles, and (of course) rocket punches, all to a hot-blooded video game soundtrack. Finish the main story line, and you'll get a reactor that lets you power up either Mecha Eli-chan or Mecha Eli-chan II -- but only one of the pair, so choose wisely! Battles in the event also drop mecha-themed treats, which you can trade for new Craft Essences and Ascension materials.
Also arriving is Osakabehime, a shut-in princess based on the legendary yokai of the same name. Her elegant Noble Phantasm gives your team a boost.
And last but not least, Carmilla has received updated animations. Check out her new moves, including an upgraded Phantom Maiden.
Sadly, it will still be a couple of years until North America gets these additions. We're currently playing what in Japan was the 2015 Halloween event -- meanwhile, Japan is on to a bridge story before the second installment of the mobile game.
>> Official Fate/Grand Order Website
>> Japanese Fate/GO Halloween Site
>> Watch Fate/Grand Order -First Order- on Crunchyroll
Thanks to Crunchyroll user kotelo for the tip. Got a tip? Send it in!
-----
Kara Dennison is responsible for multiple webcomics, blogs and runs interviews for (Re)Generation Who and PotterVerse, and is half the creative team behind the OEL light novel series Owl's Flower. She blogs at karadennison.com and tweets @RubyCosmos. Her latest story can be found in Ride the Star Wind, available now from Broken Eye Books.