Kodansha Comics is finishing the original series with North American digital release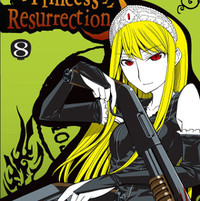 Nicely timed for Halloween lead-in, Shônen Sirius magazine has announced that Yasunori Mitsunaga's horror action series Princess Resurrection is coming back in the January issue, out November 25th. The series previously ran for 20 volumes between 2005 and 2013. It was adapted into a 2007 TV anime and 2010 OVA.
The manga was released in North America by Del Rey before the manga division was closed, and is now being released digitally by Kodansha Comics. Volume 19 was released on October 24th.
Kodansha describe the series
HAVE A NICE AFTERLIFE: Werewolves, demons, monsters, vampires. All these ferocious creatures are afraid of the same thing: the beautiful Princess Hime, an awesome warrior who fights off the forces off evil with a chainsaw and a smile. Not only does she look great in a tiara, she has magical powers that allow her to raise the dead. She's a girl on a mission, and with the help of her undead servant and a supercute robot, there's no creature of darkness she can't take down!
------
Follow on Twitter at @aicnanime