Keita Kawajiri (Nanbaka stage play) is attached to write and direct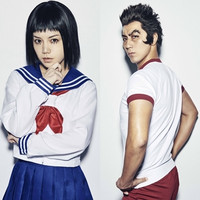 Following the protagonist Shigeo Kageyama/Mob played by the charcater's anime voice actor Setsuo Ito, Marvelous today also revealed six more cast visuals for the upcoming stage play adaptation of ONE (One-Punch Man)'s action comedy manga Mob Psycho 100: Arataka Reigen (Ryoma Baba), Teruki Hanazawa (Takuya Kawaharada), Hikaru Tokugawa (Yuuta Hoshino), Tome Kurata (Marina Tanoue), Ichi Mezato (Miyu Suenaga), and Musashi Gouda (Naoya Goumoto). 26-year-old Ito, who is also known as Kai Musashikai in the ongoing TV anime Anime-Gatari, previously voiced the character in the 12-episode TV anime adaptation animated by Bones in 2016.
The play is scheduled to be performed at The Galaxy Theatre in Tokyo 14 times between January 6 and 14, 2018. The official advance sale of the ticket will begin on November 15, then general sale will follow from December 9.
Arataka Reigen: Ryoma Baba (32/Ryuji Iwasaki in Tokumei Sentai Go-Busters)
Teruki Hanazawa: Takuya Kawaharada (26/Kintaro Touyama in The Prince of Tennis musicals)
Hikaru Tokugawa: Yuuta Hoshino (23)
Tome Kurata: Marina Tanoue (26/Fuuka Yamagishi in Persona 3 stage plays)
Ichi Mezato: Miyu Suenaga (21/idol group DokiDoki☆Dream Campus member)
Musashi Gouda: Naoya Goumoto (37/Shingo Kinjyo in Yowamushi Pedal stage plays and TV drama)
Key visual featuring Setsuo Ito as Shigeo Kageyama
CM
Source: Marvelous press release
© ONE, Shogakukan/Stage "Mob Psycho 100" Production Committee