The project seeks to make a 30-minute episode and a feature film in future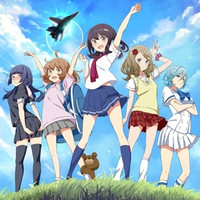 Bushiroad announced on November 2 that the five episodes of its short web anime series co-produced with DLE, Henkei Shojo (Transforming Girls), had been viewed an impressive 10 miilion times in total worldwide since its launch in March 2017. According to the press release, the video clips have been watched 3.5 million times in the American continent, over 5 million times in China, and have become popular in Russia, South America, Thailand, and Korea.
As reported, a crowdfunding for its sixth episode has already begun at MotionGallery. The target is at least 4,000,000 yen (about 35,264 US dollars). The length of the episode will be decided by the amount of the donated money, from 20-30 seconds (4-5 million yen) to 60-70 seconds (6.01-7 million yen). In 11 days, it has attracted 100,000 yen from seven supporters.
If it ends successfully, the project will seek to produce more episodes, such as a 30-minute one and
a feature film in future.
---
Episode 1: Haru
Haru (CV: M.A.O)
Episode 2: Rin
Rin (CV: Enako)
Episode 3: Itsuki
Itsuki (CV: Kana Hanazawa)
Episode 4: Nana
Nana (CV: Sora Aoi)
Episode 5: Arisa
Arisa (CV: Sayumi Ichishige)
---
PR videos for the crowdfunding for the sixth episode
Main visuals
Source: Bushiroad press release
© 2017 Henkei Shojo Production Committee