Anthropomorphic fart and Internet age horror series launch today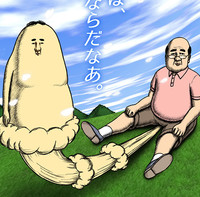 Crunchyroll has introduced Kowabon, a series of original horror shorts that uses rotoscoping to depict tales of ghostly phenomena in the Internet age, and Onara Goro, Taniguchi's shorts about an anthropomorphic fart, to its library of streaming anime.
Both have launched today.
Onara Goro is described:

Fart man Onara Goro comes like the wind, letting rip all kinds of problems in this heartful comedy.


See it world-wide, excluding Asia and Italian speaking countries.
KOWABON is described:
The world is filled with cameras. Their "eyes" have been seeing a world you didn't know existed.
See it worldwide, excluding Asia.
------
Follow on Twitter at @aicnanime