Coming to FunimationNow SimulDub on 11/8!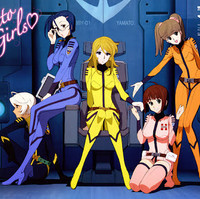 Space Battleship Yamato 2199, a 2012 remake of the classic anime sci-fi "Quest for Iscandar" Yamato storyline from 1974, is headed to Funimation, now set to join their "SimulDub" line-up on November 8th. Going into the launch, Funimation has announced the series' English dub cast.
See the English cast list of Star Blazers: Space Battleship Yamato 2199 on our blog! https://t.co/zOfWB8axOh pic.twitter.com/UIIESCk5nO

— Funimation (@FUNimation) November 8, 2017
The power-hungry Gamilas have taken over Earth, and only a distant planet has the key to save humans from extinction. Granted the schematics of a high-powered engine, the Space Battleship Yamato is built to traverse the galaxy and retrieve hope for their survival. Battling extraterrestrial forces along the way, the crew of the Yamato will stop at nothing to save their home.
| | |
| --- | --- |
| CHARACTER | CAST |
| Susumu Kodai | Chris Wehkamp |
| Daisuke Shima | Ricco Fajardo |
| Okita | Brian Mathis |
| Mori | Mallorie Rodak |
| | |
| Episode 1 | |
| Jiro | Apphia Yu |
| Dr. Sado | Kenny Green |
| Harada | Felecia Angelle |
| Hijikata | Bill Jenkins |
| Hirata | Jeremy Inman |
| Kato | Mike McFarland |
| Mamoru Kodai | Z. Charles Bolton |
| Nanbu | Stephen Fu |
| Sanada | Phil Parsons |
| Serizawa | Doug Jackson |
| Todo | Bradley Campbell |
| Tokugawa | R Bruce Elliott |
| Yabu | Ben Phillips |
| Yamanami | Kent Williams |
| | |
| CREW | |
| ADR Director | Jerry Jewell |
| Assistant ADR Director | Anthony Bowling |
| ADR Engineer | William Dewell |
| Scripts | Jared Hedges |

------
Follow on Twitter at @aicnanime