Along with the classic space opera remake, three other notable fall 2017 anime from Crunchyroll and Funimation have been formally announced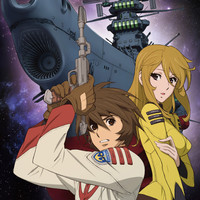 Crunchyroll has announced the introduction of Space Battleship Yamato 2199 to its offering of streaming anime. Look for new episodes of the classic space opera remake every Wednesday at 1pm PST in the US and Canada. Along with this, three other notable fall 2017 anime from Crunchyroll and Funimation have been formally announced.
Star Blazers: Space Battleship Yamato 2199
Synopsis: The power-hungry Gamilas have taken over Earth, and only a distant planet has the key to save humans from extinction. Granted the schematics of a high-powered engine, the Space Battleship Yamato is built to traverse the galaxy and retrieve hope for their survival. Battling extraterrestrial forces along the way, the crew of the Yamato will stop at nothing to save their home.
New episodes every Wednesday at 1pm PST
Blood Blockade Battlefront & Beyond
Synopsis: After a breach between Earth and the netherworld opens up over New York, humans and creatures from other dimensions become trapped in an impenetrable bubble that surrounds the city. Forced to coexist in a new city known as Salem's Lot, the shaky peace between humanity and the netherworld creatures is protected by an underground group of super humans known as Libra.
Simulcast on Saturdays 12:10pm PST

Love Live! Sunshine!! Season 2
Synopsis: Uranohoshi Girls' High School, a private school in the seaside neighborhood of Uchiura at Numazu city, Shizuoka prefecture. A small high school in a corner of Suruga Bay, it is home to nine teens, led by second-year student Chika Takami, driven by one seriously big dream: To become the next generation of bright, sparkling "school idols"! As long as we don't give up, any dream can come true... All we have to do now is keep pushing hard for glory! Now their "School Idol Project" begins to make their dreams come true!
Simulcast on Saturdays 7:30am PST

GARO -VANISHING LINE-
Synopsis: Highly advanced town - Russel City. While people enjoy its prosperity in the town, there is a huge conspiracy secretly going on which will shake the world. Sword, a man who notices its movement determines to throw himself into battles and reveal the conspiracy, but only to find a clue - "Eldorado". At that time, Sword happens to meet a girl Sophie who has been looking for the meaning of "Eldorado", a message left by her missing brother. These two, attracted by the word "Eldorado", somehow feel invisible ties each other and start to act together. Their journey with mixed feelings now begins.
Simulcast on Fridays 10:23am PST
------
Follow on Twitter at @aicnanime