5th chapter "Coexistence" is now available on Crunchyroll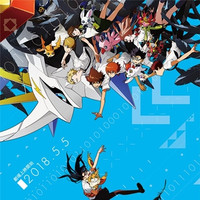 The official Japanese website for the six-part anime film project Digimon Adventure tri. has posted a poster visual for the next and final sixth chapter "Bokura no Mirai (Our Future)" featuring Meiko Mochizuki, falling with her partner digimon Meicoomon in her hand, and other main characters trying to reach their hands to her. At the same time, the site also confirmed the sixth chapter's theatrical release in Japan is set for May 5, 2018.
【ついに最終章!!】デジモンアドベンチャー tri. 第6章「ぼくらの未来」
劇場上映開始日が2018年5月5日(土)に決定!
さらに、ポスタービジュアルも公開!#選ばれしこどもの日 #デジモンhttps://t.co/sGVzzzr7yU pic.twitter.com/TOxIEMAE5F

— 5.5デジモンtri.第6章「ぼくらの未来」 (@Digi_advntr15th) 2017年11月10日
---
Digimon Adventure tri. Part 5: Coexistence is now available to Crunchyroll members in the following territories:
United States, Canada, South Africa, Australia, New Zealand, Latin America, Albania, Algeria, Armenia,
Azerbaijan, Bahrain, Belarus, Bosnia and Herzegovina, Bulgaria, Croatia, Cyprus, Czech Republic, Denmark,
Djibouti, Egypt, Estonia, Finland, Georgia, Hungary, Iceland, Iran, Iraq, Israel, Jordan, Kuwait, Kazakhstan,
Latvia, Lebanon, Libya, Liechtenstein, Lithuania, Macedonia, Malta, Mauritania, Moldova, Montenegro, Morocco,
Netherlands, Norway, Northern Cyprus, Oman, Palestine, Poland, Qatar, Romania, Russia, Saudi Arabia,
Serbia, Slovakia, Slovenia, Somalia, Spain, Sudan, Sweden, Syria, Tunisia, Turkey, Ukraine, United Arab
Emirates, Western Sahara, Yemen.
---
1st chapter "Saikai (Reunion)" poster visual
2nd chapter "Ketsui (Determination)" poster visual
3rd chapter "Kokuhaku (Confession)" poster visual
4th chapter "Soushitsu/Loss" poster visual
5th chapter "Kyousei/Coexistence" poster visual
Source: "Digimon Adventure tri." official Japanese website, Twitter
© Akiyoshi Hongo/Toei Animation