The seven-disc set includes the OP, ED, and character songs from the 1992-1995 TV anime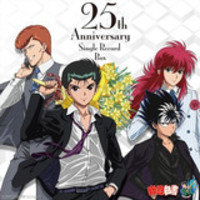 Pony Canyon announced today on November 15 that "Yu Yu Hakusho 25th Anniversary Single Record Box," the anime franchise's first analog record box will be released on February 21, 2018. The TV anime based on Yoshihiro Togashi's supernatural manga was aired from 1992 and 1995 in Japan. Its 25th anniversary project was launched early this year and has revelaed many memorial products and plans.
The regular 11,340 yen (about 100 US dollars) set contains seven analog single records for 14 songs from the TV anime, two songs for each disc. And Pony Canyon's official online store Canime also offers its 12,960 yen (114 US dollars) limited edition with a bonus disc that includes two duet songs by Kurama & Hiei, Yusuke and Keiko.
"Yu Yu Hakusho 25th Anniversary Single Record Box" song list
Disc 1: "Hohoemi no Bakudan" (OP song)/"Homework ga Owaranai" (1st ED song) by Matsuko Mawatari
Disc 2: "Unbalance na Kiss wo Shite (3rd ED)/"Taiyo ga Mata Kagayaku Toki" (4th ED) by Hiro Takahashi
Disc 3: "Sayonara byebye" (2nd ED)/"Dyadream Generation" (5th ED) by Matsuko Mawatari
Disc 4: "FIRE!"/"Kokoro wo Tsunaide" by Nozomu Sasaki as Yusuke Urameshi
Disc 5: "Otoko no Jyunjo"/"DACHI" by Shigeru Chiba as Kazuma Kuwabara
Disc 6: "Kurayami ni Akai Bara ~Romantic Soldier~"/"Koori no Knife wo Daite" by Megumi Ogata as Kurama
Disc 7: "Tasogare ni Se wo Mukete"/"Kuchibue ga Kikoeru" by Nobuyuki Hiyama as Hiei
Disc 8: "WILD WIND" by Kurama & Hiei/"Omoide wo Tsubasa ni Shite" Yusuke & Keiko Yukimura (Yuri Amano)
Jacket illustration
Source: Pony Canyon News
©Yoshihiro Togashi 1990-1994 
©Pierrot/Shueisha