Les 3 séries bientôt en VF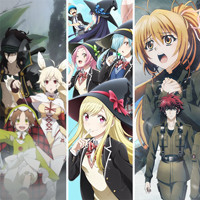 Comme vous le savez, Crunchyroll va pour la première fois diffuser trois séries du catalogue en version française doublée. Il s'agit de Rokka –Braves of the Six Flowers– (Rokka no Yûsha), Yamada-kun and the Seven Witches (Yamada-kun to Nananin no majo) et Schwarzes Marken qui seront disponibles en VF dès demain, jeudi 16 novembre, pour les abonnées Premium d'abord, puis une semaine plus tard en accès gratuit.
Nous vous proposons à présent de découvrir qui sont les voix françaises de ces séries. Le doublage a été réalisé chez SDI Belgium. Vous pouvez également écouter des extraits de chacune des séries.
ROKKA –BRAVES OF THE SIX FLOWERS—
Pierre Le Bec (Adlet Myer)
Sophie Frison (Flamie Speeddraw)
Nancy Philippot (Nachetanya)
Emilie Guillaume (Chamot Rosso)
Jean-Paul Clerbois (Hans Humpty)
Maxime Van Santfoort (Goldov Auora)
Fabienne Loriaux (Maura Chester)
Olivier Cuvellier (Rowlen)
Maxime Donnay
Grégory Praet
Stéphane Oertli
Micheline Tziamalis
Hélena Coppejans
Direction artistique : Pierre Bodson
Adaptation : Rodolphe Pollet, Claire Steydli, Marie Ryckebusch, Samuel Bigot, Thibault Longuet, Claire Steydli
Prise de son : Antoine Dannoune
Coordination de la production : Pauline Robert
YAMADA-KUN AND THE SEVEN WITCHES
Sébastien Hébrant (Ryû Yamada)
Ludivine Deworst (Urara Shiraishi)
Cathy Boquet (Noa Takigawa)
Maxym Anciaux (Shin'ichi Tamaki)
Manon Hanseeuw (Leona Miyamura)
Léonor Bailleul (Mikoto Asuka)
Nancy Philippot (Nene Odagiri)
Sophie Landresse (Rika Saionji)
Sophie Frison (Meiko Ôtsuka)
Maxime Donnay (Kentarô Tsubaki)
Helena Coppejans (Miyabi Itô)
Grégory Praet (Toranosuke Miyamura)
Maxime Van Santfoort (Haruma Yamazaki)
Marie du Bled (Maria Sarashima)
Cédric Cerbara (Ushio Igarashi)
Audrey Devos (Rin Sasaki)
Quentin Minon (Hideaki Tsurukawa)
Stéphane Pelzer (Mitsuru Kameda)
Vincent Dussaiwoir (Professeur)
Esther Aflalo
Anthony Scott
Thibaut Delmotte
Maud Van Wind
Marie De Potter
Martin Goossens
Marie Braam
Simon Hommé
Direction artistique : Marie-Line Landerwyn
Adaptation : Amélie Marriq, Claire Steydli
Prise de son : Antoine Dannoune
Coordination de la production : Laura Moyson
SCHWARZES MARKEN
Alexis Flamant (Theodor Eberbach)
Sophie Frison (Anett Hosenfeld)
Eleonore Meeus (Pham Thi Lan)
David Manet (Heinze Axmann, Ribert)
Robert Dubois (Walther Kruger)
Hélena Coppejans (Gretel Jeckeln)
Sandrine Henry (Circe Steinhoff, Inghild)
Fabienne Loriaux (Sylwia Krzasińska)
Sophie Pyronnet (Katia Waldheim)
Delphine Chauvier (Irisdina Bernhard)
Béatrice Wegnez (Liz Hohenstein)
Nathalie Hugo (Beatrix Brehmer, Marta, Lise enfant)
Marie du Bled (Suzy Cave, Katerina)
Ludivine Deworst (Lily)
Fabian Finkels (Joachim Balk, Hannibal, Peter)
Stany Mannaert (Joly Roger, commandant, contrôleur, soldats)
Jean-Philippe Lejeune (Condamné, contrôleur, soldats)
Maya Boelpaepe (Opératrice, mère, enfants)
Bernadette Mouzon (Valeria, opératrice)
Philippe Allard (Haym, voix d'hommes)
Olivier Francart (Schmidt, Graf)
Direction artistique : Olivier Cuvellier
Adaptation : Amélie Marriq, Véronique Ferri, Rodolphe Pollet, Samuel Bigot
Prise de son : Antoine Dannoune
Coordination de la production : Pauline Robert