Mecha sci-fi coming this winter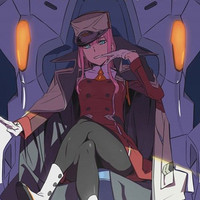 Trigger and A-1 Pictures are teaming up for sci-fi anime Darling in the FranXX - featuring The [email protected] director Atsushi Nishigori teaming up with Steins;Gate' writer Naotaka Hayashi on the writing. An introduction has been rolled out during the 10th anniversary of Gurren Lagann, and this week's was paired with a site update featuring a new visual and additional plot details.
The series takes place in the far future, in which humanity has escaped the dying earth in a mobile fortress city called "Plantation." There, a group of young pilots are isolated off in a training facility known as the "Bird Cage." Without seeing the outside world or skies, only being taught how to fight, they prepare to pilot robots known as "FRANXX" in a battle against a huge, mysterious enemy known as "Shriek."
The series will premiere on TOKYO MX, Tochigi TV, Gunma TV, BS11, ABC Asahi Housou and Nagoya TV in January 2018.
【新キービジュアル公開!】
キャラクターデザイン:田中将賀さん、メカニックデザイン:コヤマシゲトさんによる #ダリフラ の新キービジュアルを公開!さらにビジュアルの公開に合わせてHPもリニューアル致しました!https://t.co/ZCkxEIBv6p

「俺たちには空がなかった。彼女には翼がなかった。」 pic.twitter.com/PNyBvHUrzz

— ダーリン・イン・ザ・フランキス (@DARLI_FRA) November 15, 2017
Main Staff:
Director: Atsushi Nishigori (The [email protected] anime series)
Sub Director: Toshifumi Akai (Magi: The Labyrinth of Magic character designer/chief animation director)
Series Composition: Atsushi Nishigori, Naotaka Hyashi (MAGES./Steins;Gate, Plastic Memories)
Character Design/Chief Animation Director: Masayoshi Tanaka (Anohana, Your Name.)
Mechanical Designer: Shigeto Koyama (Rebuild of Evangelion, Big Hero 6)
Action Supervisor: Hiroyuki Imaishi (Tengen Toppa Gurren Lagann, KILL la KILL)
Anime Production: TRIGGER (KILL la KILL, Little Witch Academia), A-1 Pictures (The [email protected], Anohana
Cast:
Hiro - Yuto Uemura
Zero Two - Haruka Tomatsu
Ichigo - Kana Ichinose
Mitsuru - Aoi Ichikawa
Zorome - Mutsumi Tamura
Kokoro - Saori Hayami
Futoshi - Hiroki Goto
Mutsumi Tamura as Zorome
Miku - Nanami Yamashita
Goro - Yuichiro Umehara
Ikuno - Shizuka Ishikawa
------
Follow on Twitter at @aicnanime