Mega-hit comedy series is now available on Crunchyroll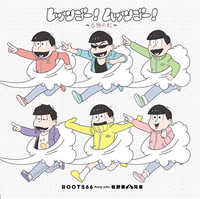 The official Japanese website for the TV anime Osomatsu-san/Mr.Osomatsu posted two-version music videos for "Let's Go! Muttsugo! ~Mutsuiro no Niji~," the ED theme song for its ongoing second season, performed by 14 singers and 13 musicians, who were all born in 1966, as "ROOTS66 Party". The six voice actors of the six Matsuno brothers also joined the recording to add the chorus.
"ROOTS66 Party" is divided into two units in the order of the members' birthdays, "Hayamatsu66" and "Osomatsu66." The CD single including a total of nine versions of the song is set to be released on December 6.
Unit "Hayamatsu66" singers:
Kazuya Miyata (JUN SKY WALKER(S)/February 1, 1966)
Kenji Ohtsuki (Kinniku Shoujo Tai, Tokusatsu/February 6, 1966)
Takashi Nakagawa (Soul Flower Union/March 29, 1966)
Naozumi Masuko (Dohatsuten/April 23, 1966)
Takao Tajima (ORIGINAL LOVE/April 24, 1966)
Kazuyoshi Saito (June 22, 1966)
Misato Watanabe (July 22, 1966)
"Let's Go! Muttsugo! ~Mutsuiro no Niji~ Hayamatsu66" short MV
Unit "Osomatsu66" singers:
Shikao Suga (July 28, 1966)
ABEDON (UNICORN/July 30, 1966)
Fumio Ito (KEMURI/August 22, 1966)
Yuki Saito (September 10, 1966)
Kazuya Yoshii (THE YELLOW MONKEY/October 8, 1966)
Shinichi Yakuma (SPARKS GO GO/November 28, 1966)
Tortoise Matsumoto (Ulfuls/December 28, 1966)
"Let's Go! Muttsugo! ~Mutsuiro no Niji~ Osomatsu66" short MV
27 artists/singers
CD jacket illustration
TVアニメ「おそ松さん」EDテーマ「レッツゴー!ムッツゴー!~6色の虹~」 ROOTS66 Party with 松野家6兄弟のMVを公開!
ボーカルメンバーを誕生日順に2チームに分けた「早松66ver」と「遅松66ver」の2つのMVをどちらもお見逃しなく♪ https://t.co/BV5LWyxpf1#おそ松さん pic.twitter.com/TS1f31soBU

— 「おそ松さん」公式アカウント (@osomatsu_PR) 2017年11月16日
---
Mr. Osomatsu 2nd Season is now available to Crunchyroll members worldwide except Asia.
Source: "Mr. Osomatsu" TV anime Japanese official website, Twitter
© Fujio Akatsuka/Osomatsu-san production Committee