"Ninja Slayer" Yamoto Koki also newly available for pre-ordder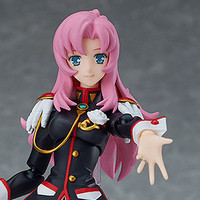 The Revolutionary Girl Utena anime ran April-December in 1997, and it's time to bring the 20th anniversary celebrations to the figure shelf. Good Smile Company and Max Factory have prepared a poseable figma of Utena Tenjou, which is on sale starting today. Along with Chu-Chu, the articulated, 13.5cm figure will ship in May.
figma Tenjo Utena
"Grant me the power to bring the world revolution!"
From the anime series that recently celebrated its 20th anniversary, "Revolutionary Girl Utena" comes a figma of the main character, Utena Tenjo!
The smooth yet posable figma joints allow you to act out a variety of different scenes.
A flexible plastic is used in specific areas, allowing proportions to be kept without compromising posability.
She comes with three face plates including a confident expression, a shouting expression and a gentle smiling face.
The elegant Sword of Dios that she uses in battle is also included with the figma.
Her close friend Chu-Chu is also included.
An articulated figma stand is included, which allows various poses to be taken.
Product Details
Product Name

figma Tenjo Utena

Series

Revolutionary Girl Utena

Manufacturer

Category
Price
¥6,296 (Before Tax)
Release Date

2018/06

Specifications

Painted ABS&PVC non-scale articulated figure with stand included. Approximately 135mm in height.

Sculptor

konoka

Cooperation

Masaki Apsy

Released by

Max Factory

Distributed by

Good Smile Company
Also newly available for pre-order
figma Yamoto Koki
"From now on, I am Me."
From "Ninja Slayer From Animation" comes a figma of the high school ninja girl, Yamoto Koki!
The smooth yet posable figma joints allow you to act out a variety of different scenes.
A flexible plastic is used in specific areas, allowing proportions to be kept without compromising posability.
A selection of hand parts are included to recreate various poses from the series such as the 'aisatsu' pose.
The scarf and sword parts have a pink gleam made in the image of her Sakura Enhancement Jitsu.
Her sword "Ubasute" can be displayed both sheathed and drawn from the sheath.
Origami shuriken are also included as optional parts, together with their own stand.
An articulated figma stand is included, which allows various poses to be taken.]
Product Details
Product Name

figma Yamoto Koki

Series

Ninja Slayer From Animation

Manufacturer

Phat!

Category
Price
¥6,000 (Before Tax)
Release Date

2018/07

Specifications

Painted ABS&PVC non-scale articulated figure with stand included. Approximately 135mm in height.

Sculptor

Kazushi Kawasaki / Yukky

Paintwork

SCRATCH MODELIST

Cooperation

Mac Factory

Released by

Phat!

Distributed by

Good Smile Company
------
Follow on Twitter at @aicnanime