Psychic comedy returns this winter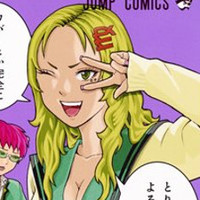 A second anime adaptation of Shūichi Asō's psychic comedy The Disastrous Life of Saiki K. (aka Saiki Kusuo no Sai-nan) is set to broadcast in winter 2018, and the series will be adding later character introductions such as supremely boring Satou Hiroshi, kindergarten classmate/way over aggressive talker Akechi Touma and oracle/rival love interest Aiura Mikoto. An early look at next week's Jump reveals that Aiura Mikoto will be voiced by Eri Kitamura (My Hero Academia's Mina Ashido, Madoka Magica's Sayaka Miki).
Previously announced, Yuuki Kaji (Attack on Titan's Eren Yeager) will be voicing Akechi Touma.
------
Follow on Twitter at @aicnanime