4 Inch Nel figure planned for June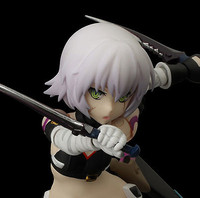 It's almost Christmas, and Fate/Grand Order's (and /Apocrypha and /strange fake - sort of) Jack the Ripper has been a good girl this year. So, here's your chance to bring the young lady, if not home for the holidays, then at least home later in 2018. Sentinel has launched pre-orders for their 4-inch Nel line release of the character.
Takao Kinoshita (Icrea) sculpts the 10m figure which features an extra expression, two knives, two weapon-holding hands and base. She sells for 7,560yen ahead of a June release.
They describe 4 Inch Nel figures
The 4 Inch Nel series is a collection of articulated figures made by Sentinel that stand approximately 10cm in height, and the latest series to join the collection is Fate/Grand Order! The very first in the series is Assassin/Jack the Ripper! The figure has been carefully adjusted to ensure high articulation while also ensuring there are no large gaps between the joints. Be sure to add the first in the series to your collection!

------
Follow on Twitter at @aicnanime