A-1 Pictures-produced TV anime adaptation is now available on Crunchyroll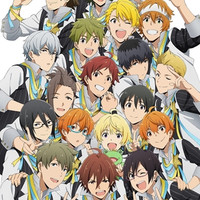 According to Oricon's daily single chart, "THE [email protected] SideM ANIMATION PROJECT 01 'Reason!!'" sold 5,388 copies and finally took the top spot on the sixth day of release, beating seven-member Japanese boy idol group Kanjani Eight's latest 40th single "Outou-seyo" with 4,378 copies, also released on the same day, November 15.
While "Outou-seyo" had dominated the top place for five consecutive days since release, "Reason" had kept following one place behind. Then on the sixth day, the fictional boy idol group overcame the real one at last.
The three-song CD from Lantis includes "Reason!!," the OP theme song for the ongoing TV anime adaptation of Bandai Namco Entertainment's social game THE [email protected] Side M, performed by 315 STARS. The special unit consits of the members of the fanchise's six main boy idol units:
DRAMATIC STARS, Beit, S.E.M, High×Joker, W, and Jupiter. It sold 44,892 copies in its first three days
and 65,345 copies in a six-day total.
The TV anime THE [email protected] Side M premiered in Japan on October 7, and has been also available
to Crunchyroll members worldwide excluding Asia.
OP主題歌「Reason!!」が、11月19日付のオリコンデイリーランキングで1位を獲得しました! #SideM https://t.co/VV1qqBDlYC

— アイドルマスターSideM ランティス (@SideM_lantis) 2017年11月20日
"THE [email protected] SideM ANIMATION PROJECT 01 'Reason!!'" limited edition CD jacket
Regular edition
TV anime OP movie (official video)
TV anime key visual
Source: Oricon daily single chart
© BNEI/PROJECT SideM