The show is set to be performed in the Japonismes 2018 event in Paris, France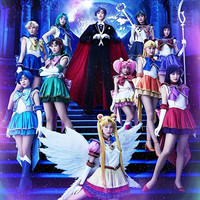 The Pretty Guardian Sailor Moon franchise's 25th anniversary project site announced today that "a new performance show" that combines elements of songs, dance, and visual gimmicks will be born in 2018. The franchise's musical shows have been played since 1996, and the new "performance show" is expected to be a more evolved version based on the recent ones.
In addition, the new show is scheduled to be performed in Japonismes 2018 next year. Japonismes 2018 is a series of cultural events to be held in France, mainly in Paris, from July 2018 to February 2019 to commemorate the 160th anniversary of Japan-France diplomatic relations. The plan for the memorial event was suggested by Japanese Prime Minister Shinzo Abe to French president François Hollande (at the time) at the Japan-France Summit Meeting in May 2016.
【更新】2018年、「美少女戦士セーラームーン」を歌×ダンス×映像ギミックで魅せる、新たなパフォーマンスショーが誕生します!そして、フランス・パリで行われる大型日本文化紹介企画"ジャポニスム2018"への参加が決定しました!https://t.co/sxkDTbUIw0

— セーラームーン25th公式 (@sailormoon_25th) 2017年11月22日
---
After the eight years hiatus, the musical adaptations of Naoko Takeuchi's internationally popular shoujo
manga series was relaunched with all-female new cast members in 2013 as part of the franchise's 20th
anniversary project. So far five shows were produced.
1. "-La Reconquista-" (September 13-23, 2013)
2. "-Petite Étrangère-" (August 21-September 7, 2014)
3. "-Un Nouveau Voyage-" (September 18-October 4, 2015)
4. "-Amour Eternal-" (October 15, 2016-March 11, 2017)
5. "-Le Mouvement Final-" (September 8-October 1, 2017)
5th show digest
DVD jacket (March 14, 2018 release)
Source: Sailor Moon 25th anniversary project official website
© Naoko Takeuchi
© Naoko Takeuchi, PNP/Kodansha, Nelke Planning, Dwango