Manga licensed for North America by Seven Seas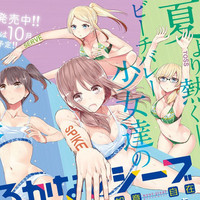 Following up summer's initial announcement, staff information has now been published for a TV anime adaptation of Jizai Nyoi's 2015 Okinawa based beach volleyball manga Harukana Receive. Toshiyuki Kuboka (the Berserk movies) helms the C2C production with a Toko Machida (Lucky Star, Wake Up, Girls!) writing and Takeshi Oda on character design an serving as chief animation director.
TVアニメ『はるかなレシーブ』のティザービジュアルとスタッフがついに公開!! 沖縄の砂浜を舞台に"はるかな"の躍動感と真剣な表情が印象的な一枚です!さらに監督は窪岡俊之氏!公式サイト(https://t.co/DWYSOyShiL)とTwitterアカウント(@harukana_anime)も開設、どちらも要チェックです!!(P) pic.twitter.com/jaFbavl2ch

— まんがタイムきらら編集部 (@mangatimekirara) November 23, 2017
Scheduling information for the anime is still TBA.
Seven Seas has licensed the manga for North American release. They describe it:
Synopsis:
When high schooler Haruka moves to Okinawa, she finds herself enamored with the beach right outside her front door and resolves to form a volleyball team with her cousin, Kanata. However, because she's so short, Kanata gave up on volleyball ages ago. Can Haruka get her to take up the sport again in time for the junior tournament?
きららフォワード1月号の『はるかなレシーブ』は第28話「アタシたちが日本一になる」!激闘続く沖縄予選の決勝戦、"はるかな"と"エクレア"がお互いに一歩も引かない攻防を繰り広げる中、クレアの秘めたる想いが明らかに…!? TVアニメ制作快調&コミックス1~4巻絶賛発売中!!(P) pic.twitter.com/WZkoRwlftj

— まんがタイムきらら編集部 (@mangatimekirara) November 23, 2017
まんがタイムきららフォワードにて好評連載中の『はるかなレシーブ』はTVアニメ化企画進行中です! 本日公式サイト&公式Twitterをオープンしました! https://t.co/mjNLpE535j #はるかな pic.twitter.com/W199ZILhKX

— 「はるかなレシーブ」公式 (@harukana_anime) November 23, 2017
------
Follow on Twitter at @aicnanime