Collaboration goods between Kirakira PreCure and Hatsune Miku, Rin/Len are also planned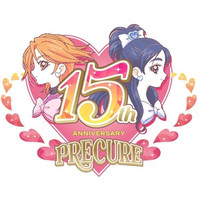 Toei Animation today opened a special website for its PreCure action magical girl anime series' 15th anniversary project. The series started with Futari wa PreCure back in 2004, and its two main voice actresses, Yoko Honna (Nagisa Misumi/Cure Black) and Yukana (Honoka Yukishiro/Cure White), producer Takashi Washio, and series director Daisuke Nishio posted their comments for the anniversary. While not much information is available now, various plans for the upcoming year are scheduled to be announced via this site. Stay tuned!
祝・プリキュア15周年!「ふたりはプリキュア」から始まったプリキュアシリーズが、2018年で15周年を迎えます♪プリキュア15周年記念特設サイトが本日OPEN!今後色々な情報を随時更新!お楽しみに! #precure #プリキュア https://t.co/QS0AIBNaYc pic.twitter.com/rewayayb7B

— 東映アニメーション公式 (@toeianime_info) 2017年11月30日
PreCure TV series:
1. "Futari wa PreCure" (2004–2005)
2. "Futari wa PreCure Max Heart" (2005–2006)
3. "Futari wa PreCure Splash Star" (2006–2007)
4. "Yes! PreCure 5" (2007–2008)
5. "Yes! PreCure 5 GoGo!" (2008–2009)
6. "Fresh PreCure!" (2009–2010)
7. "HeartCatch PreCure!" (2010–2011)
8. "Suite PreCure" (2011–2012)
9. "Smile PreCure!" (2012–2013)
10. "DokiDoki! PreCure" (2013–2014)
11. "HappinessCharge PreCure!" (2014–2015)
12. "Go! Princess PreCure" (2015–2016)
13. "Maho Girls PreCure!" (2016–2017)
14. "Kirakira PreCure a la Mode" (2017–2018)
15. "Hugtto! PreCure" (2018-)
---
Meanwhile, the franchise's offcial store "Pretty Store" will start offering collaboration goods between
the ongoing TV series Kirakira PreCure a la Mode and the three internationally famous vocaloid characters,
Hatsune Miku, Kagamine Rin and Len, from December 27, 2017. In the key visual below, the Kirakira
PreCure characters are wersing the well-known vocaloid costumes. You can check out the product
lineup including stuffed dolls and tin badges here.
【お知らせ】アニメ「キラキラ☆プリキュアアラモード」と「初音ミク」「鏡音リン・レン」夢のコラボ!プリティストアで12/27(水)からコラボフェア開催♪コラボ記念で12/23~1/8札幌にプリティストア出張店も登場!https://t.co/dNbS4A09K4  #プリキュア #プリティストア pic.twitter.com/lEpaXCQlCT

— プリキュアプリティストア (@pps_as) 2017年12月1日
「キラキラ☆プリキュアアラモード」と、世界で活躍し今年で10周年を迎えるバーチャルシンガー「初音ミク」「鏡音リン・レン」の夢のコラボが実現!グッズも登場!https://t.co/rDhUlViqDs #プリキュア #precure pic.twitter.com/H58n37NMG2

— 東映アニメーション公式 (@toeianime_info) 2017年12月1日
---
Source: "PreCure" 15th anniversary site, "Pretty Store" official site
(C)ABC-A, Toei Animation