The ongoing TV series' director Koichi Sakamoto also helms the feature film edition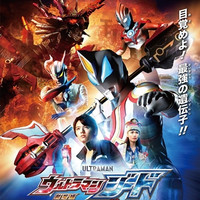 The official Japanese website for Gekijyouban Ultraman Geed: Tsunaguze! Negai!! (Ultraman Geed The Movie: We Tie! Wishes!!), the feature film edition based on the ongoing Ultraman Geed tokusatsu TV series, revealed a main poster visual and a teaser trailer. In both, the appearance of the two previous ultra heroes, Orb (2016) and Zero (2009-), is confirmed.
The all-new feature film is set in Okinawa and tells the three Ultraman's battle against the giant mechanical brain Gilbaris and its Galactron Army that has destroyed the planets where intelligent life live in the galaxy. The Koichi Sakamoto (Power Rangers)-directed film is set to be released in Japan on March 10, 2018, distributed by Shichiku.
Tsuburaya Productions' latest ULtraman TV series has been aired on TV Tokyo since July of this year for a 25-episode run, and has been also available to Crunchyroll members.
Poster visual
Teaser trailer
"Ultraman Geed" TV series main visual
Source: "Ultraman Geed" Japanese official website
© Tsuburaya Prod.
© Ultraman Geed Production Consortium, TV Tokyo