Manga magazine Young King Ours also recently featured a bonus set of stickers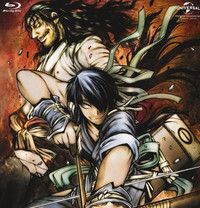 The anime adaptation of Kouta Hirano's historical figures versus fantasy Drifters will be returning in an episodes 13 and 14 Blu-ray, scheduled for December 23rd. The manga is also returning to North America with volume 5 to be released by Dark Horse on December 20th. The OVA is previewed in a new promo.
The OVA will add banker/trader Bunzelmachine Shylock the 8th, voiced by Tomoaki Maeno (Log Horizon's Naotsugu, UtraPri's Camus, Yowapeda's Juichi Fukutomi). A new drama CD is being prepared for the limited edition release.
Episode 13 will also be streamed with a retrospective of the earlier TV anime on AbemaTV.
Manga magazine Young King Ours also recently featured a bonus set of stickers (though the series itself didn't have a new chapter in that January issue)
------
Follow on Twitter at @aicnanime