TV anime's second season will also continue to its second cour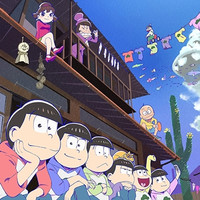 Avex Broadcasting & Communications Inc. announced today on December 5 that dMatsu-san (tentative title), an original spin-off web short series inspired by the ongoing TV anime Osomatsu-san/Mr. Osomatsu, will be streamed for 12 episodes on the largest Japanese mobile phone operator NTT Docomo's streaming service dTV weekly from January 9, 2018.
Following the very successful 25-episode first season in 2015-2016, the second season of the TV anime series based on Fujio Akatsuka's popular manga series in the 1960s, Osomatsu-kun, has been aired since this October and is confirmed to continue to its second cour toward next year.
dMatsu-san will have two segments (six episodes for each): "Totoko x the Sextuplet" that features the main heroine Totoko as a princess and her conversations with each brother, and "Iyami x the Sextuplet" that focuses on the daily life between Iyami and the Matsuno six brothers.
TV anime 2nd season visual
TV anime 1st season visual
Short film series for the DVD/Blu-ray visual
Stage play visual
Source: Avex Broadcasting & Communications Inc. press release
© Fujio Akatsuka/Mr.Osomatsu Project