"One Piece" dominates the yearly sales ranking for 10 consecutive years since 2008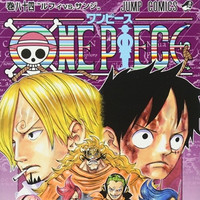 Oricon, a data compiling company specializing in providing data for the Japanese music/book industry, today announced the best-selling book annual rankings of 2017, which were compiled between December 5, 2016 and November 27, 2017.
Once again, Eiichiro Oda's internationally popular series One Piece dominated the yearly manga sales ranking for 10 consecutive years since 2008 by selling 11.495 million copies in total, which was 818,794 less than last year. Meanwhile, the sales of Hajime Isayama's Attack on Titan in the second place is slightly improved. It sold 6,622,781 copies this year, which was 78,700 more than 2016 when the manga ranked fourth. The best-selling light novel series was Reki Kawahara's Sword Art Online with 1,173,096 copies, its anime feature film Sword Art Online The Movie: Ordinal Scale also became an international hit this year.
---
2017 Manga Sales Ranking Top 10 (by series)
1 (1). "One Piece" - 11,495,532 (12,314,326 in 2016)
2 (4). "Attack on Titan" - 6,622,781 (6,544,081)
3 (3). "Kingdom" - 6,184,214 (6,595,968)
4 (7). "My Hero Academia" - 5,852,310 (5.114,916)
5 (8). "Tokyo Ghoul:re" - 5,303,514 (4,278,599)
6 (5). "Haikyu!!" - 5,067,939 (6,474,394)
7 (6). "The Seven Deadly Sins" - 3,592,571 (5,115,573)
8 (9). "One-Punch Man" - 3,223,151 (3,979,760)
9 (10). "Shokugeki no Soma" - 2,792,441 (3,477,128)
10 (-). "Magi" - 2,713,074
---
2017 Manga Sales Ranking Top 25 (by volume)
1. "One Piece" 84 - 2,730,184
2. "One Piece" 85 - 2,688,847
3. "One Piece" 86 - 2,496,033
4. "One Piece" 87 - 2,040,375
5. "Attack on Titan" 21 - 1,701,237
6. "Attack on Titan" 22 - 1,649,614
7. "Attack on Titan" 23 - 1,469,864
8. "Hunter X Hunter" 34 - 1,258,337
9. "Tokyo Goul:re" 9 - 961,396
10. "Tokyo Goul:re" 10 - 920,372
11. "One-Punch Man" 12 - 903,801
12. "Haikyu!!" 24 - 901,749
13. "Haikyu!!" 25 - 869,374
14. "Haikyu!!" 26 - 857,048
15. "Tokyo Goul:re" 11 - 846,406
16. "Kingdom" 45 - 825,973
17. "Silver Spoon" 14 - 818,715
18. "Kingdom" 47 - 817,998
19. "Tokyo Goul:re" 12 - 810,891
20. "Kingdom" 46 - 804,446
21. One-Punch Man 13 - 787,228
22. "My Hero Academia" 12 - 744,085
23. "Kingdom" 46 - 736,019
24. "March comes like a lion" 13 - 728,376
25. "Haikyu!!" 27 - 726,393
---
2017 Litght Novel Sales Ranking Top 10 (by series)
1. "Sword Art Online" - 1,173,096
2. "Konosuba - God's Blessing on This Wonderful World!" - 960,418
3. "Re:Zero − Starting Life in Another World" - 925,671
4. "The Irregular at Magic High School" - 809,636
5. "Classroom of the Elite" - 564,642
6. "Novel: Your Name." - 501,026
7. "Eromanga Sensei" - 489,916
8. "Akashic Records of the Bastard Magical Instructor" - 443,995
9. "Overlord" - 426,706
10. "The Saga of Evil Tanya" - 417,897
---
Source: Oricon
One Piece image © Eiichro Oda/Shueisha