Seiji Mizushima (Fullmetal Alchemist) serves as director for Diomedéa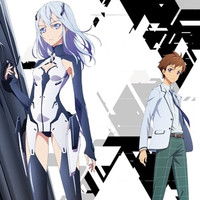 The official website and Twitter for the upcoming TV anime adaptation of Satoshi Hase's sci-fi novel BEATLESS has released a new key visual featuring its male protagonist boy Arato Endo (CV: Takuto Yoshinaga) and the main heorine Lacia (Nao Toyama). The Diomedea-produced anime is set to premiere on MBS and TBS on January 12, 2018, and will be also streamed in Japan and abroad exclusively via Amazon Prime Video.
New Key Visual
【キービジュアル解禁!】TVアニメの放送に先駆けてキービジュアルが公開となりました!アンドロイドであるレイシアと、魂を持たないレイシアを見つめる遠藤アラト。「ヒト」と「モノ」のボーイ・ミーツ・ガールを予感させる1枚となっておりますhttps://t.co/qU71INEfGE#anime_beatless pic.twitter.com/izF3O2bqUV

— TVアニメ「BEATLESS」1/12放送開始! (@BEATLESS_info) 2017年12月9日
Voice Cast:
Arato Endo: Takuto Yoshinaga
Lacia: Nao Toyama
Kouka: Misako Tomioka
Snowdrop: Hiromi Igarashi
Saturnus: Shino Shimoji
Methode: Sora Amamiya
Ryo Kaidai: Kaito Ishikawa
Kengo Suguri: Daiki Yamashita
Yuka Endo: Saki Ono
Shiori Kaidai: Uki Satake
Olga Suguri: Yuuki Wakai
Erica Barrows: Emiri Suyama
1st PV
---
Meanwhile, "BEATLESS 'Arm for the Outsourcers'," a special limited set including a 68-page guidebook,
an 8-page character reference book, and a 10-song soundtrack CD, is scheduled to be released at the
price of 3,000 yen in early January of 2018. Reprints of the 2014 book "BEATLESS 'Tool for the Outsourcers'"
is also decided. Pre-sales of both books with bonus items (acryl mini figure, fiber towel, or tin badge)
will be held at the upcoming Winter Comiket on December 29-31.
"BEATLESS 'Arm for the Outsourcers'"
"BEATLESS 'Tool for the Outsourcers'"
Event-limited shopper
Fiber towel
Acryl mini figure, tin badge
『BEATLESS』アニメ化を記念し、ガイドブックなど付いた限定セット「BEATLESS "Arm for the Outsourcers"」の発売が決定!また、話題となった商品「BEATLESS "Tool for the Outsourcers"」の再販も決定!さらにはコミックマーケット93にて先行販売も!
詳細:https://t.co/7gT0aDksDK#anime_beatless pic.twitter.com/NURUUhjncT

— TVアニメ「BEATLESS」1/12放送開始! (@BEATLESS_info) 2017年12月9日
Source: TV anime "BEATLESS" official website, Twitter, Uncron press release
©2018 Satoshi Hase, redjuice, monochrom/KADOKAWA/BEATLESS Production Committee