Signature curry dish offered at Akihabara locations starting December 15th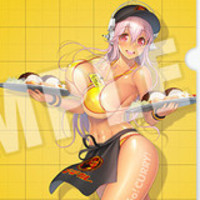 Restaurant chain Go Go Curry has done its share of otaku collaborations over the years. Re:Zero for example, Its latest invites Nitro+ music mascot Super Sonico adds some extra heat to a special "Powerful Curry" collaboration menu.
Her signature dish will feature boiled egg · cream croquette , and two sausages, and sells for 1,200yen with bonus clearfile at Akihabara locations from December 15-January 14th.
トッピングもたくさんで、ぼりゅーむまんてんです〜っ!ごーごー!o(`・∀・´)○ダァー! https://t.co/JVTewNkYbl

— すーぱーそに子 (@sonico_macaron) December 8, 2017
「ゴーゴーカレー」と"すーぱーそに子"がコラボレーション!12/15(金)~2018/1/14(日)秋葉原限定コラボメニュー「ぱわふるカレー」が登場!! ご注文の方には"津路参汰"描き下ろしコラボクリアファイルをプレゼント!- https://t.co/209I9phZqe #Nitroplus #すーぱーそに子 #sonico pic.twitter.com/HVJA467Otv

— ニトロプラス (@nitroplus_staff) December 8, 2017

------
Follow on Twitter at @aicnanime