New OP and ED songs are performed by DISH//, BURNOUT SYNDROMES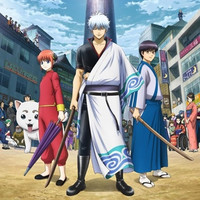 The official Twitter for the TV anime adaptation of Hideaki Sorachi's comedy manga series Gintama announced today on December 11 that the next series based on the manga's final arc Shirogane no Tamashii-hen (Silver Soul Arc) is set to premiere on TV Tokyo, TV Hokkaido, TV Aichi, TV Setouchi, and TVQ Kyushu Housou on January 7, 2018, then on TV Osaka one day later.
Following the well-received three seasons from 2006 to 2016, Gintama., the fourth season of the TV anime adaptation was first aired for 12 episodes from January to March of this year. Then after the rebroadcast of select episodes, its Porori-hen has been aired since October. The manga's final arc Shirogane no Tamashii-hen started with its 596th chapter published in July 2016.
【放送情報】『ポロリ篇』に続く『銀ノ魂篇』の放送日時決定!引き続きお見逃しなく!
■テレビ東京/テレビ北海道/テレビ愛知/テレビせとうち/TVQ九州放送…2018年1月7日(日)スタート 毎週日曜深夜1時35分~
■テレビ大阪…2018年1月8日(月)スタート 毎週月曜深夜1時05分~ #gintama #銀魂 pic.twitter.com/KtMsmJ8Zhu

— アニメ銀魂 (@gintamamovie) 2017年12月11日
The OP song for Gin no Tamashii-hen, "Katteni MYSOUL" (Wilfully My Soul) is performed by five-member
dance rock band DISH//, while the ED song "Hanaichimonme" (the name of a traditional Japanese children's
game) is provided by three-member rock band BURNOUT SYNDROMES.
DISH//
☆★ライブ情報★☆

2018年1月1日
DISH//日本武道館単独公演'18「& DISH//」

本日10:00よりチケット一般発売中♪
見所満載な5回目の武道館ライブ、詳細は特設サイトヘ!!https://t.co/cTNg643967 pic.twitter.com/RQssuVhe9E

— DISH// OFFICIAL (@dish_info) 2017年11月25日
BURNOUT SYNDROMES
【BIG NEWS!!】
TVアニメ「銀魂」銀ノ魂篇の新EDテーマソングにBURNOUT SYNDROMESの新曲『花一匁(はないちもんめ)』が決定しました!!

【詳細はこちら】https://t.co/8eRHm6yz06#バーンアウトのお知らせ#花一匁楽しみ pic.twitter.com/ct6f2FGPE1

— BURNOUT SYNDROMES (@burnout_live) 2017年11月20日
Source: "Gintama" TV anime official Twitter
© Hideaki Sorachi/Shueisha, TV Tokyo, Dentsu, BNP. Aniplex