Ya disponible en la web.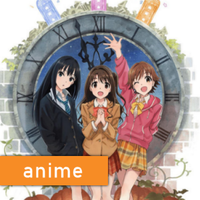 ¿Qué es para ti una idol? Jóvenes chicas llenas de sueños y esperanzas que anhelan con hacer felices a las personas. Esa transformación que pasan de ser chicas corrientes a ser la fuente de inspiración de multitud de personas es algo increíble, algo prácticamente mágico, casi como si esas chicas fueran... la mismísima Cenicienta.
Desde Crunchyroll nos alegramos de poder anunciar la llegada de una de las series de idols más influyentes de la actualidad con THE [email protected] CINDERELLA GIRLS.
THE [email protected] CINDERELLA GIRLS ya puede encontrarse completa en su totalidad en la web, estando disponible a nivel mundial, incluyendo España y Latinoamérica. Una oportunidad única de disfrutar con la historia del crecimiento de estas chicas, de sus inseguridades y su camino a la madurez, y de su encuentro con el verdadero significado de ser una idol. Su camino a convertirse en verdaderas Cenicientas.
La agencia de talentos 346 Productions ya cuenta con un buen elenco de idols establecidas, pero el productor de su nuevo proyecto tiene una idea muy clara como tema principal del mismo: las sonrisas. La búsqueda de chicas cuyas sonrisas sean capaces de iluminar los corazones del público será la base del Cinderella Project.
Chicas corrientes elegidas para ser aspirantes a idols y que compartirán con el espectador sus vidas diarias, pero ¿podrán subir las escaleras de palacio hasta llegar al gran salón donde se celebra el baile?
Que dé comienzo la magia...