Dive into our latest catalog additions and find out what will get you hooked from the first episode!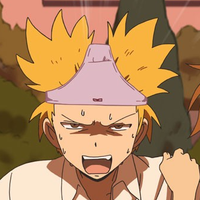 All your favorite fall anime are wrapping up, and it's still a couple weeks until the winter season kicks off with its big titles. Why not pass the time with our new catalog shows? We've just added Daily Lives of High School Boys and THE [email protected]: CINDERELLA GIRLS to our line-up. What will get you hooked? Read on to find out!
Daily Lives of High School Boys
Originally released five years ago, this manga adaptation does exactly what it says on the tin: it's a slice of life show consisting of vignettes following Yoshitaki, Tadakuni, and Hidenori through their everyday life.
In sharp constrast to many high school comedies, like Azumanga Daioh and My Ordinary Life, Daily Lives of High School Boys has a predominantly male cast. There are still crushes, sisters, and girls from nearby schools. But the gender shift means that the issues faced are going to be slightly different from what you might normally see in an anime of this type.
The Hook: What, a Zaku in RX-78 colors in the first couple minutes isn't enough of a hook for you?
Okay, yeah, the very beginning of the first episode ends up being a big tribute to both Sunrise and Square Enix, but that's less an indication of what the show is and more an indication of their sense of humor. There are plenty of referential jokes, but it's not nearly as reality-bending as the first few minutes would lead you to believe.
The real draw of the show is actually the main cast. The trio of Kenichi Suzumura (Hikaru in Ouran High School Host Club), Miyu Irino (Saji Crossroad in Gundam 00), and Tomokazu Sugita (Kyon in The Melancholy of Haruhi Suzumiya) is fantastic together, and their chemistry would work with or without an anime to go with it.
Who It It For: Anyone in need of some absolute silliness. It's a lighthearted series of mini-stories, and can be watched casually without too much heavy focus on continuity.
Daily Lives of High School Boys is available in the Crunchyroll catalog.
THE [email protected]: CINDERELLA GIRLS
Not an [email protected] expert? Not a problem. Cinderella Girls can be hopped into with essentially no background knowledge -- though, of course, it will mean more to long-running fans.
We return to 346 Pro at the birth of a new initiative: the Cinderella Project. Starting with idol hopeful Uzuki, the girls accepted into the project will be prepped and trained to become the new generation of idols. And in Uzuki's case, that's a dream come true -- it's the first time she's ever gotten called back. But bringing together the team isn't going to be smooth sailing.
The Hook: Not everyone wants to be an idol. As our deadpan Producer begins to pull together girls who he believes have the right kind of smiles, he encounters Rin. And she is far less enthusiastic than Uzuki. How do you give away a fairy tale career to someone who doesn't even want it?
Who Is It For: People who haven't stepped into the world of [email protected] but enjoy idol anime might like to get on at this level. We meet all three main characters right out of the gate, and -- even with limited introduction for aspiring idol Mio -- we have a pretty clear image of who we'll be spending the season with. It's a series of idol dreams come true with a literal fairy tale motif.
THE [email protected]: CINDERELLA GIRLS is available in the Crunchyroll catalog.
-----
Kara Dennison is responsible for multiple webcomics, blogs and runs interviews for (Re)Generation Who and PotterVerse, and is half the creative team behind the OEL light novel series Owl's Flower. She blogs at karadennison.com and tweets @RubyCosmos. Her latest stories can be found in Whoblique Strategies.