"Junji Ito Collection", "citrus", and more are also coming soon to Crunchyroll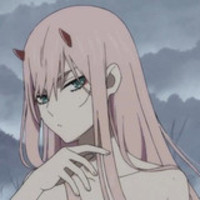 A new anime season is nearly upon us, and Crunchyroll is rolling out a bundle of new announcements for their Winter 2018 simulcast line-up. Let's see what's coming soon to an online streaming platform near you:
DARLING in the FRANXX
An original science fiction TV anime with direction by Atsushi Nishigori and animation by TRIGGER (Kill la Kill) and A-1 Pictures (Interviews with Monster Girls), Crunchyroll describes DARLING in the FRANXX as follows:
They dream of one day flying into the endless sky, even though they are painfully aware of how far away the sky is beyond the glass that blocks their flight.
The distant future: Humanity established the mobile fort city, Plantation, upon the ruined wasteland and civilization flourished. Within the city were pilot quarters called Mistilteinn, otherwise known as the "Birdcage." That is where the children live... Not knowing anything of the outside world, and unaware of the vast sky. Their only mission in life was the fight.
Their enemies are the mysterious giant organisms known as Kyoryu. The children operate robots known as FRANXX in order to face these still unseen enemies because they believe that is their purpose in life. Among them was a boy who was once called a child prodigy: Code number 016, Hiro. However, now he's a failure and considered unneeded. Those who cannot pilot FRANXX basically do not exist.
One day, a mysterious girl called Zero Two appears in front of Hiro. From her face grew two alluring horns.
"I've found you, my Darling."
Territories: TBA.
Death March to the Parallel World Rhapsody
Based on the popular "isekai" ("alternate world") light novel series written by Hiro Ainana and illustrated by shri, Death March to the Parallel World Rhapsody is directed by Shin Ōnuma and features animation by Silver Link (Restaurant to Another World) and Connect. Crunchyroll describes Death March to the Parallel World Rhapsody as follows:
"Satou," aka Ichiro Suzuki is a programmer in the middle of a death march. He was supposed to be taking a nap but somehow wakes up in another world... What lies before him is what looks like the menu screen of the game he was working before his nap. He's at a complete beginner stage at level 1. However, he had the option to "explore the whole map," which was just implemented to help out new players and three "Meteor Showers" which could level a whole map. Suddenly, a whole group of lizardmen appear in front of him. In order to survive, Satou uses Meteor Shower, his level jumped to 310 and he became extremely wealthy. Whether it be dream or reality, Satou's journey was now beginning.
Territories: TBA.
Katana Maidens ~ Toji No Miko
An original TV anime with direction by Kōdai Kakimoto and animation by Studio Gokumi (KINMOZA!), Crunchyroll describes Katana Maidens ~ Toji no Miko as follows:
Since the ancient times, the Kannagi priestesses have used their swords, or Okatana, to exorcise the creatures known as Aratama that brought chaos upon the world of man. These maidens were known as Tojis. They are a special task force within the police. They are allowed to have their Okatana on their person because they are government officials, but they mostly consist of middle school and high school girls who go to one of five training schools throughout the country. Though they mostly live normal school lives, if they are given a mission, they take their Okatana and unleash their powers, fighting to protect the people.
This spring, the top Tojis from five schools across the country have been gathered for a customary tournament where they will use their abilities and fight for the top position. As the many Tojis trained and prepared for the upcoming tournament, there was one girl who was even more determined than the others on improving her swordsmanship. What lies before the end of her Okatana?
Territories: Worldwide, except Asia.

citrus
Based on the yuri manga by Saburouta, citrus is directed by Takeo Takahashi and features animation by Passione (Hinako Note). Crunchyroll describes citrus as follows:
Yuzu, a high school gyaru who hasn't experienced her first love yet, transfers to an all-girls school after her mother remarries. She's beyond upset that she can't land a boyfriend at her new school. Then, on her first day, she meets the beautiful black-haired student council president Mei in the worst way possible. What's more, she later finds out that Mei is her new step-sister, and they'll be living under the same roof! And so the love affair between two polar opposite high school girls who find themselves drawn to one another begins!
Territories: Worldwide, except Asia.
Junji Ito Collection
Crunchyroll delves into spooky territory with this collection of terrifying tales based on the works of macabre manga master Junji Ito. Junji Ito Collection is directed by Shinobu Tagashira and that features animation by Studio Deen (Showa Genroku Rakugo Shinju), and Crunchyroll describes it as follows:
The works of one of the most famous Japanese horror manga artists, Junji Ito, finally gets animated! This will be an omnibus animation where each episode will star different protagonists such as the famous Tomie, Soichi, and Fuchi!
Territories: Worldwide, except Asia.
Basilisk: The Ouka Ninja Scrolls
Based on the novel by Masaki Yamada that continues the story of Masaki Segawa's Basilisk ninja manga series, Basilisk: The Ouka Ninja Scrolls is directed by Junji Nishimura and features animation by Seven Arcs Pictures (TRINITY SEVEN). Crunchyroll describes Basilisk: The Ouka Ninja Scrolls as follows:
The battle for succession that continued for three generations of shogun in the Keichou era culminated in a gruesome battle of ninja arts between the Kouga and Iga clans. Amidst a rain of flower petals, a man and woman who had decided to live for love were separated once again, beautiful in their transience.
However, it is said that by the hand of Hattori Hanzo's adopted son, Kyouhachirou, these two flower petals, whether temporarily or permanently, were given life again and left two mementos behind. These children, born with a destiny of their own, were called Kouga Hachirou and Iga Hibiki. The former had eyes like his father's, and the latter had eyes like her mother's.
It is now the Kan'ei era, and the land is at peace. As ninjas begin to disappear into the shadows after being deemed unnecessary, The Kouga and Iga clans ask a favor of Hachirou and Hibiki in hopes of reinforcing their foundations.
Territories: Worldwide except Asia, the Middle East, and North Africa.
Hakata Tonkotsu Ramens
Crunchyroll descends into the criminal underworld of Fukuoka with this adaptation based on the series of crime novels written by Chiaki Kisaki and illustrated by Hako Ichiiro. Hakata Tonkotsu Ramens is directed by Kenji Yasuda and features animation by Satelight (The Disappearance of Nagato Yuki-chan), and Crunchyroll describes its story as follows:
"There is a person you desperately want to kill. Now, how do you kill that person?"
At a glance, Fukuoka seems like a peaceful town, but crime runs rampant behind the scenes. It's now a battleground for professional killers, with urban legends suggesting that there's even one who specializes in killing professional killers. Assassins, detectives, revenge seekers, informants, torture specialists... When stories are told of these and other professionals of the underground, a "killer of professional killers" appears...
The winner of the 2013 Dengeki Novel Prize (Grand Prize) is now an anime!
Territories: Worldwide, except Asia.
We've got something to satisfy even the most serious anime appetites, and there are more announcements still to come, so stay tuned for additional updates on Crunchyroll's Winter 2018 simulcast season!
Paul Chapman is the host of The Greatest Movie EVER! Podcast and GME! Anime Fun Time.