The band spent 18 months to complete the song for the film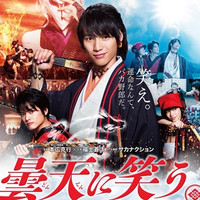 At the time of its initial announcement last month, five-member Japanese rock band Sakanaction had not yet finished recording of the theme song "Kagerou" (heat haze) for the upcoming live-action film adaptation of Kemuri Karakara's fantasy action manga Donten ni Warau/Laughing Under the Clouds. The song is finally completed after 18 months of sessions and revealed in the film's latest trailer posted online today.
The highly-anticipated adaptation starring 24-year-old Sota Fukushi (Gentaro Kisaragi in Kamen Rider Fourze) is set for a release in Japan on March 21, 2018.
New trailer featuring the theme song "Kagerou" by Sakanaction
楽曲初解禁

サカナクションが手掛ける待望の主題歌「陽炎」が遂に完成‼️1年半の製作期間を経て、最高傑作と言っても過言ではない楽曲に...

最新予告では、福士さんと<熱き男たち>が魅せる、ボロボロになりながらの超絶アクションにも注目です #曇天に笑う https://t.co/U1QJCjLJnV

— 映画『曇天に笑う』 (@donten_movie) 2017年12月15日
New poster/flyer visual
本日より、全国の劇場で『#曇天に笑う』チラシ&ポスターが順次設置スタートしました✨ pic.twitter.com/BMXUbVTONe

— 映画『曇天に笑う』 (@donten_movie) 2017年11月25日
Source: "Doenten ni Warau" live-action film official website, Twitter
© Kemuri Karakara/Mag Garden