Anime broadcast starts January 7th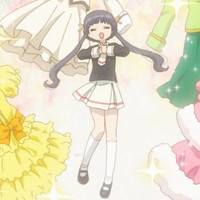 You may be excited for the 20th anniversary return of Cardcaptor Sakura anime, but are you as excited as Tomoyo Daidouji? A new promo for the anime, set to premiere on NHK BS Premium on January 7th, begs the question.
Junko Iwao returns to voice Sakura's loyal partner, who will be in middle school in this adaptation of CLAMP's follow-up manga.
☆新PV放送決定☆明日19:25よりNHK Eテレにて放送のセレクション放送の予告パートにて、「クリアカード編」の新PVを放送します!今回は「知世編」☆お楽しみに♪ #ccsakura pic.twitter.com/mdWCaIjUAh

— カードキャプターさくら(公式) (@ccsakura_info) December 14, 2017
こんなこともあろうかと!

「カードキャプターさくら クリアカード編」
最新PV「知世編」を公開しました!#ccsakurahttps://t.co/G8ytZFzLwc

— NHKアニメ (@nhk_animeworld) December 15, 2017
------
Follow on Twitter at @aicnanime