12-episode TV anime series is now available on Crunchyroll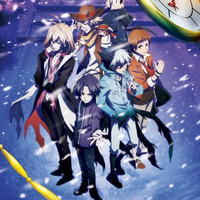 The official website for SERVAMP -Alice in the Garden-, the upcoming anime feature film based on Strike Tanaka's fantasy action manga SERVAMP confirmed today on December 15 that it will be released in select 25 theaters across Japan on April 7, 2018. Advance tickets with the eight-type tin badges (Mahiru, Kuro, Misono, Lily, Mikuni, Jeje, two secret characters) will be available from December 23.
Tin badges for the advance ticket
【劇場鑑賞前売券が発売】
12月23日(土)より劇場鑑賞前売券の発売が決定致しました! 前売特典は缶バッジで、全8種からランダムでプレゼント致します!https://t.co/WUTqPmQ5Rt#サーヴァンプ pic.twitter.com/yfiVccl3As

— 劇場版「サーヴァンプ」公式 (@anime_servamp) 2017年12月15日
---
Its 12-episode TV anime series was aired from July to September 2016, and is now availableto members.
All of the main voice cast members and production staff, including director Hideaki Nakano (Saiyuki Reload
Blast), are set to return.
Story synopsis:
Since Tsubaki's disappearance, Mahiru has thought he regains his peaceful life. But one day, a sudden
unseasonable snow starts falling in the town. Mahiru thinks the abnormal weather may be related to
vampires and calls out to Misono Alicein who also knows about vampires. With that as a start, Misono
has lost contact with Mahiru. Then Misono's brother Mikuni appears in front of Mahiru who worries
about Misono, and reveals the secret that has been hidden in the Alicein Family.
Key Visual
Teaser trailer
Source: "SERVAMP -Alice in the Garden-" official website
(C)Strike Tanaka・KADOKAWA/SERVAMP MOVIE PROJECT