Manga Author: "You'll be surprised at how the song is perfectly matched with the film."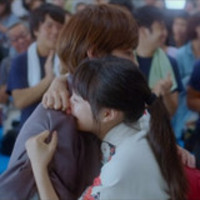 The official website for the live-action film project based on Yuki Suetsugu's shoujo manga series Chihayafuru today released a 90-second full trailer for its upcoming third part "Musubi" (The Conclusion) introducing the new theme song "Mugen Mirai" (The Infinite Future) performed by three-member techno pop unit Perfume. The unit previously provided the theme song "FLASH" for the first two films released in March ans April 2016. "FLASH" became the unit's top-selling digital single at the time.
The story of "Musubi" is set two years after the second film, focusing on the protagonist Chihaya Ayase (Suzu Hirose) and other main characters' third year life at their high school. In addition to the all of the main cast reprising their roles, Kento Kaku newly joins as Hisashi Suou, the current karuta national champion. "Musubi" directed by Norihiro Koizumi (The Liar and His Lover) will be released in Japan on March 17, 2018.
Full trailer
Main poster visual
Suzu Hirose and the theee members of Perfume
【「ちはやふる ー結びー」主題歌は #Perfume さん #無限未来 に決定】
上の句、下の句に続き、今作でも主題歌をPerfumeさんが歌ってくださいました
お祝いの記念写真をどうぞ#ちはやふる #ちはやふる結び #2018年3月17日公開 #あ〜ちゃん #のっち #かしゆか #広瀬すず pic.twitter.com/Wq0lqo0zpi

— ちはやふる公式 (@chihaya_koshiki) 2017年12月17日
---
Meanwhile, the manga author Suetsugu also posted a special illustration inspired by the Perfume members
and Suzu Hirose:
"Perfurme again performs the theme song for the 'Chihayafuru Musubi' film. I draw an illustration inspired
by my happiest feeling when I heard the announcement. It feels like being cuddled close together with the
godesses who belong to a diffrent world and can't stay together. 'Mugen Mirai' is too perfect for the film!
You'll be suprised at how the song is perfectly matched."
Perfumeさんが今回も映画「ちはやふる 結び」の主題歌を担当してくださることになったのです。その発表を聞いて嬉しすぎる気持ちを絵にしてみました。なんかこんな、世界が違って一緒にはいられない女神が寄り添ってくれる感じ。「無限未来」ピッタリすぎる曲なの!合いすぎてビックリしますよ。 pic.twitter.com/Zjx6kRFjDT

— 末次由紀ちはやふる36巻11/13発売! (@yuyu2000_0908) 2017年12月17日
---
Source: "Chihayafuru" live-action film project official website, Twitter
© 2018 Movie "Chihayafuru" Production Committee
© Yuki Suetsugu/Kodansha